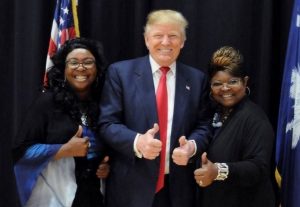 Diamond and Silk, popular online commentators, will be featured at the Denton County Republican Party's annual Lincoln-Reagan Dinner on Saturday, March 4, at the D/FW Hyatt Regency Hotel.
The duo is expected to do multiple live broadcasts at the gala banquet on their social media outlets.
Diamond and Silk are biological sisters from North Carolina.  They are commentators on their YouTube channel "The Viewers' View" where they candidly tell you exactly how they view modern day topics appearing across various platforms.
Their colorful banter often comes with a parental advisory and a common sense approach without political correctness.
On the Viewers' View they speak their minds 100-percent without sound bites, and often right from the heart, because to do anything less would be an injustice to the supporters with whom their message resonates.
Dinner table sponsorships and individual tickets are available now by phoning 940-383-4446 or by registering online at bidpal.net/dentoncountylincolnreagan.
Individuals or businesses wishing to donate to the live or silent auctions should contact Republican Headquarters at 940-383-4446.