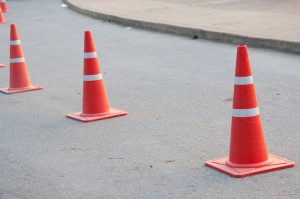 Various lane closures on northbound FM 2499 in Flower Mound will continue for the time being as the Texas Department of Transportation (TxDOT) finishes up a pavement replacement project.
TxDOT crews started at FM 1171 in early December and moved south along FM 2499, removing and placing sections of failing pavement, varying in size, before turning around and heading north on FM 2499.
When crews encounter a trouble spot, the pavement must be torn up, which requires two lanes to be taken away. Once concrete is set in the repaired section, crews are then able to re-open two of the three lanes, and continue surveying the roadway.
TxDOT has informed the Town that they plan to keep two of the three lanes open prior to 9 a.m., and after 3 p.m. to accommodate rush hour traffic, and minimize backups as much as possible.
Drivers are asked to use extreme caution when traveling through these areas, as message boards are not in place because this is a continually moving construction zone.
Once TxDOT has completed work along FM 2499, crews will turn to FM 3040, and then FM 1171 to undergo the same pavement replacement survey. A representative from TxDOT said he expects all work to be complete in two to three months, weather depending.
Town staff will provide any and all information shared to them by TxDOT, via the Town's Facebook page, and Twitter.
If you have questions or comments about this project, contact the TxDOT's Denton area office at 940-387-1324.