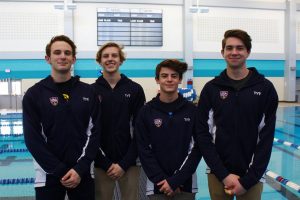 Flower Mound High School athletes Andrew Pope, Max Wade, Rylan Lantz and Owen Martin (alternate) have been selected to the USA Water Polo Southwest Zone Team.
They will be heading to Northern California to compete in the Olympic Development Program (ODP) Zone Championship tournament February 24-26, 2017.
ODP serves as a forum to identify and develop athletes to represent USA Water Polo throughout domestic and international competition. ODP involves 13 geographic zones throughout the country. The top 14 athletes in each zone form the zone team.