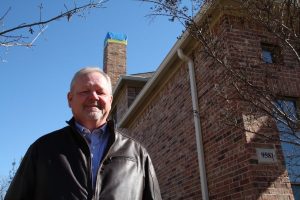 Lantana-based realtor Mark Barnes and wife Cathy were headed to a new model home in the Reata neighborhood of Lantana on a sunny Sunday afternoon in mid-January. Out of the corner of his eye, Barnes saw smoke coming out of the soffit vents, roof cap and chimney of a house on Carson Drive in the adjoining Telea community across from the 16th hole at Lantana Golf Club.
"We turned on our blinkers and raced to the neighborhood," Barnes said. "When we turned onto Carson, our expectation was someone was outside, maybe even a fire truck. But the street was literally empty."
Not seeing anybody, they quickly pulled up to the house. While Cathy called 911, Mark investigated to see if anyone was inside. Finding the front door locked, he banged on all doors and a window with no response. He then kicked on the back door, which opened and he entered the home. He ran in to find a frightened mom and her children and told them their home was on fire.
"That's such shocking news to anybody that at first they just stood there," he said. "They didn't know what to do. It took about a minute for them to realize 'this house is on fire and we've already called 911, fire equipment is on the way, get out now.' "
After seeing the family to the curb, Barnes went back inside to grab a coat for the mom, then asked if anyone or anything was left behind. One of the sons said they couldn't find their cat while the mom yelled what Barnes thought was a child's name.
Barnes went inside two more times, before smoke inhalation began overcoming the asthma sufferer. By then, emergency vehicles and firefighters from Argyle and Flower Mound arrived and paramedics took him to Denton Regional Medical Center for quick treatment and release.
Argyle Volunteer Fire Department Chief Mac Hohenberger estimated about 25 firefighters from his department and Flower Mound responded with three engines and one aerial truck and put the fire out in about 10 minutes.
"The fire was pretty much contained to the fireplace and chimney area and attic," Hohenberger said. "There wasn't a lot of structural damage, but there was quite a bit of water damage, unfortunately. Any time you go through a house and start spraying water you're going to cause some damage."
While he never saw the cat, Barnes heard the fire department had it after he'd opened some doors. [The Argyle Fire Department recommends closing doors to close-off the fire instead.]
"As it turned out, the people we saw on the first floor were the only people in the house and were safe," Barnes said.
"Quite frankly, it was nothing but adrenaline and instinct," he said.  "It's not like we had a plan of what we were going to do. We just pulled up and just had this instinct of: 'if someone is in the house, we have to let them know.'"