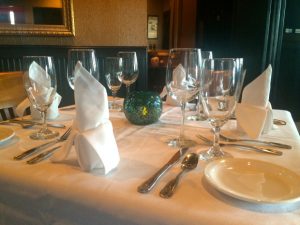 Valentine's Day is quickly approaching and we're sure there are some of you out there who have no idea where to celebrate with that "special someone." But have no fear – Foodie Friday is here! We've compiled a list of some of our favorite local romantic spots. And several of them are actually offering special Valentine's Day menus for you to take advantage of.
So, consider celebrating at one of these local restaurants.
The Table is currently taking reservations for their special Valentine's Day meal. Chef Ray has planned a beautiful menu for lovebirds to enjoy including lobster tail, a duo of beef (including a Black Angus NY Strip and an Ox Tail Ragout), and a chocolate bar for dessert. The cost is $70 per person and you can also add on a wine pairing option for $30 per person.
Call 972.874.1010 to make your reservation.
Yellow Rose Steak & Chop House
Yellow Rose always offers a fantastic Valentine's Day menu for couples and this year is no exception. The menu features three courses including an 8 oz Lamb Strip Loin, Crab Stuffed Salmon, Almond Crusted Chicken, and their signature 12 oz prime rib.
The cost is $62 per person and you can make reservations for that evening on their website (www.YellowRoseSteakHouse.com) or by calling 972.899.9820.
Bistecca is another local restaurant that always offers a fantastic Valentine's Day menu.  This year, Chef Morris Salerno will be offering their famous Sea Bass, Bone-in Ribeye, Tenderloin and Lobster, and Scallops and Crab.
The cost is $160 per couple and you can call 972.318.0515 to make your reservation.
For those of you in the Lantana, Argyle, Bartonville area, Savory Bistro would be a great spot for your Valentine's celebration. They are offering their Valentine's Tasting Menu over a two-night period. But keep in mind it is the weekend before Valentine's Day (Friday the 10th and Saturday the 11th).
Their tasting menu will consist of eight courses with dishes like a Goat Cheesecake, Lobster Roll, Rack of Lamb, Seared Sea Bass, and Chocolate Stout Cake.
The cost is $89 per person and a paired wine menu will be available for an additional cost as well as their full beer and cocktail list.
Email them at [email protected] or call them at 940.584.0255 for reservations.
Even though they're a little outside of our immediate local area, J Macklin's is a top contender for us as far as dining out on Valentine's Day goes. Chef Scott Hoffner has also prepared a special a la carte Valentine's Day menu that they'll be serving in addition to their full menu.
The a la carte options include a Crab and Avocado Eggroll, Pan Seared Seabass, 8 oz. Certified Angus Beef Filet and a Bing Cherry Jubilee for dessert.
Make your Valentine's Day reservations today by calling the restaurant at 972.393.0200.
While they're not offering a menu specific for Valentine's Day, Prime Farm to Table definitely makes our list of recommended restaurants to celebrate the Day of Love.
It's the perfect place to go if you and your sweetheart want to try some dishes you've never seen or heard of before. Chef Chris Flahaven always has something unique up his sleeve.
We definitely still recommend you make reservations, so call them at 972.539.1902.
If you want a more casual atmosphere as well as delicious food, Verf's is another of our local favorites. Some of our personal favorite menu items include the Ribeye Steak, Pot Roast, Filet Mignon, Thick Cut Salmon Steak, and the Bone in Pork Chop.
But we also saw them post something on Facebook the other day about a Chicken Fried Pork Meatloaf that looked incredible. They always have incredible-sounding Chef Specials, so we promise you won't be disappointed!
Speaking of a restaurant that always has incredible Chef Specials, Dido's Urban Grill is another great option for your Valentine's Day dinner.  Chef Gary is always whipping up something unique and special, so I'm sure they'll have a few tricks up their sleeves on Valentine's Day.
In addition to their incredible dinner menu, Dido's also has a fantastic selection of craft beers on tap as well as a marvelous cocktail menu.
Carvao Prime Brazilian Steakhouse
For a fun twist on the traditional Valentine's Day dinner, you may also want to consider heading to Carvao in Lakeside DFW for a Brazilian-style meal. You can enjoy all of their incredible salad bar dishes and sides as well as their approximately 18 cuts of Churrasco-style meats.
Carvao will be open from 3-10 p.m. on Valentine's Day and the cost for dinner is $45.90 per person.
That's really just the tip of the iceberg when it comes to possible locations to spend your Valentine's Day dinner, so feel free to read about all of our Foodie Friday restaurants at IAmJayMarks.com.