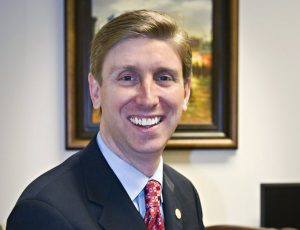 The 85th Texas Legislative Session is officially underway. It is remarkable how quickly your legislature has established a steady rhythm of working its way through the short 140 days we will be at the State Capitol until we adjourn from the regular session and the members go home to our respective districts. Before we complete the people's business of passing sound public policy for the state, your state legislature must first address several priority organizational matters to start off the session.
Since the very first day on the House floor in early January, my House colleagues and I have placed an emphasis on quickly taking care of procedural housekeeping so that we can start tackling the many priorities of our state, and we are not alone. Each of our statewide elected officials have presented their vision for the future of Texas, and are moving quickly to see their top issues achieve legislative success before the end of session on May 29, 2017. In conjunction with the foundation set by the Texas House that I will detail below, it is a very busy and exhilarating time at the Texas Capitol!
Establishing the House Rules
The House began undertaking critical work immediately upon swearing in when the members of the House adopted the procedural rules that will govern the various operations and proceedings of the Texas House. Adoption of the Housekeeping Resolution and House Rules are crucial to establishing the functions of the members' offices and the guidelines of the legislative process for that session. House members moved swiftly to craft and adopt our rules of procedure, and now anticipate assignments to the various legislative committees.
Proposing Legislation
Although January 10th marked the start of the 85th Legislative Session for Texas, members of the House had the ability to propose legislation beginning nearly two months prior. This opportunity allowed members to bring their interim work that they had been preparing to fruition in advance of our convening.
As of opening day, House and Senate members had filed over 1,300 individual pieces of legislation addressing a variety of important issues. Bills have already been filed to balance the fiscally prudent state budget, build upon our economic successes, reform higher education, strengthen K-12 education, boost our state's infrastructure, address mental health, and reform our foster care system.
Organizing the House Republican Caucus
During the first few days, the members of the Texas House Republican Caucus assembled to organize and elect their leaders for this session. The Republican Caucus is an organization of critical importance as it is responsible for providing an array of vital services to the members of the majority party including policy research, hosting legislative briefings on critical issues before the House, and supporting individual members in passing legislation that advances conservative policy.
Over the past two years, I have been privileged to lead the Republican Caucus as its Chairman. At our organizational meeting, I was honored to be re-elected to continue this role along with the rest of our previous board members. As Chairman, it is my responsibility to coordinate and serve the overwhelming Republican majority in the House and promote a sense of unity between our caucus members. It is truly humbling to have the trust of my Republican House colleagues, and I pledge to utilize my background in business and public service to promote conservative initiatives that cultivate our Texas values of limited government, fiscal responsibility, and personal liberty.
From the adoption of the House Rules to the great variety of bills already prepared for debate, your Texas House has established a foundation for an extraordinarily productive legislative session that will allow us to lead Texas into the future.  I hope you will stay engaged in the lawmaking process and follow our progress as we work to continue to keep Texas strong.  Be sure to follow me on Facebook (www.facebook.com/tparker63) and on Twitter (@tparker63).  You can also find information on bills and other actions from the Texas House by logging on to www.house.texas.gov.
It is an honor to serve you in the Texas House of Representatives, and I look forward to representing you this legislative session. As always, please know my door is open, and I welcome your feedback on any critical legislative issues before the state legislature. If you would like to share your thoughts with me, please feel free to contact me at my Capitol office at 512-463-0688 or by e-mail at [email protected].