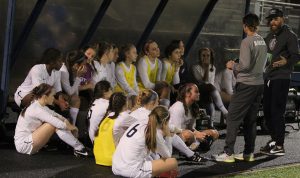 Liberty Christian girls soccer coach Sarah Hawkins and first-year boys coach Jorge Anduray have both described this season as a "rebuilding year." With small rosters and limited experience to boot, who can blame them?
But according to Hawkins, no one is feeling sorry for the Warriors. In fact, very few coaches look forward to playing them.
"Sometimes when you look at the schedule, coaches can think, 'That's a win, and that's another win.' But with Liberty, I really don't think other teams know what they are going to get," Hawkins said. "I've had several coaches tell me that. The truth is, we look like a team that could win state one week, and the next we don't look so good.
"But we are absolutely competitive. No one wants to play us."
That has Hawkins and Anduray – and their players – in high spirits.
"We are staying in games because these boys are warriors – pun intended," Anduray said. "Because of their work ethic alone, they are every coach's dream. I wouldn't trade them for anything."
Anduray took over the boys program this season following the departure of former coach Bill Jones. He has plenty of skins on the wall in his 27-year coaching career, too, having coached both the boys and girls teams at Burlington High School in Wisconsin and working as an assistant at the University of Wisconsin–Oshkosh, to name a few.
Anduray hopes his wealth of experience pays off for Liberty, a team he could see breakout at any moment. The boys are coming off a tough 4-1 loss to Parish Episcopal earlier last week, and though the score may suggest a blowout, Anduray said his team dominated the second half. That stretch included a huge goal from senior forward Cale Hundley, who got a solid assist from center-midfielder Trevor George.
Anduray said the duo, along with midfielder Cole Hill, is providing incredible leadership for an otherwise young squad.
"We only have four seniors and 11 students total on varsity," Anduray said. "But I've been very pleased with the way things are going. We are extremely competitive, even if it doesn't always show on the scoreboard."
As for the girls, Hawkins said she graduated nearly 10 seniors from last year's playoff team – creating a rough transition as several newcomers stepped into critical roles. Regardless, someone always manages to step up, said Hawkins, who has had the luxury of coaching a core group of college-level athletes in each of her four seasons at the helm.
This year is no different as four girls signed national letters of intent on Feb. 1.
Leading that charge is forward Z Kante, who signed with Brown University. Both defender Jenny Soto and center-midfielder Chanie Scrivner signed with Oklahoma Christian while Tori Martin, a center-back, signed with The University of Texas at Dallas.
In her four seasons, Hawkins said more than 75 percent of her players have moved on to play college soccer.
"It's always been a great program. We just happen to be in a district that is incredibly strong," Hawkins said. "Our district could go up against any UIL district out there. It's that tough."
The Lady Warriors are still expected to make the postseason this year, and are looking to make amends to last year's early postseason exit at the hands of Houston St. Agnus.
"In many ways, we are still trying to figure out who we are, but these girls have all the potential in the world," Hawkins said. "The playoffs are there for us. We just have to want it."
If both the boys and girls teams make the playoffs, that could be a bad sign for opponents.