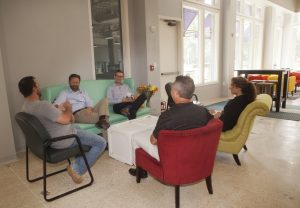 The doors of Innovate Flower Mound, the town's center for entrepreneurs, opened this past fall for everyone to visit the new Parker Square facility; and, learn how a real entrepreneur center functions.
"We are still in our 'entrepreneurial opening' stage, which means we have open hours for all Flower Mound residents to see all the [business] resources that are available," said Jason Adams, managing partner of DayOne Consulting, the management company for the center.
There are various levels of membership available, including free to use during the specific hours as listed. A $49 level of membership comes with a key fob for 24-hour access, high-speed internet, use of such amenities as printers and copiers and the ability to book space for events. The $150 membership adds the rental of dedicated individual space.
Adams said the center is for all entrepreneurs– whether someone's starting a business or has been running a business for years; whether that business is small and local, or an enterprise with global impact.
"Most people think it's [the facility] 'how can the center help me,' but that's not it," said Adams. "The center is not a place to come get your problems solved, but a place to come find answers."
He said the center provides a place for the "collision" of ideas, information, opportunities to exchange experiences and meet other entrepreneurs from other fields of business.
"It's not networking … where meetings with people and information is focused on similar or related businesses," Adams said. "Instead, it's an exchange of how to solve similar business problems—like how to increase a project or solve a distribution problem—by looking at it from a different prospective; a 'collision' of ideas—to create job growth—in a community, through a community approach."
Adams brings up Susie Carter, founder and president of Mixed Media Creations in Lewisville, has contributed her time, talent, resources and capital to help the Flower Mound Entrepreneur center and local entrepreneurs.
The Flower Mound resident and female entrepreneur used her idea and skills to build a large, locally-based company 10 years ago.
"She has partnered with me, where we have invested together, on a few ventures that will have significant impact; first on Flower Mound, then on the rest of the U.S.," said Adams.
DayOne Consulting and Mixed Media Creations are showcasing the Flower Mound Entrepreneur Center to many other cities and then helping them activate a true local economic development strategy for entrepreneurs.
Invest Local, LLC— is a company created by Carter, Adams and Curtis Shore of Parker Square. "We started the company as a way to invest in local Flower Mound companies via time, talent and treasure (capital)," explained Adams. "We believe that the next wave of job growth across the U.S. is local entrepreneurs building their ideas into companies– whether that is a local cleaning company, regional staffing company or a global enterprise tech company– with the support, talent and capital of local residents.  We are firm believers that the source of the next largest investment capital will come from locals investing into locals." Initially, Invest Local funded a local company that has been in business for eight years. The well-known entrepreneur was ready to grow the company over the next three years, but the company need a little strategic-growth capital to get the ball rolling.  Invest Local formalized an investment and the company has already experienced a jump in growth in the first two months.  Some investments are in the form of structured micro-loans, while others can be equity positions, or talent-trade for a long-term return.
Activate Speed Shops—was also founded by Carter and Adams. The goal is to take vacant commercial real estate and revitalize the area by placing innovative, consumer-facing companies into these spaces for short-term occupancy—one-week to six-months. The premise is to offer an opportunity for entrepreneurs and their ideas a physical place to connect with customers to get real feedback, test an idea and allow consumers to experience the idea firsthand. Activate Speed Shops proposes to create three things for the real estate participants: an initial consumer interest to visit the shop, because it's there for a limited time; a consumer's repetitive visitation pattern; and, housing ideas that become successful will turn into long-term lease tenants.
Cup-Pilot— was founded by a local resident Justin Aten.  Cup-Pilot is a patented product to "make travel better."  It solves the carrying drinks problem people experience, especially those that require us to fly.  Cup-Pilot has already sold 10,000 units and is now looking to refresh itself to make a strong play in the market.
Ginger Cube-– was founded by local resident Jagmit Singh. It provides a point-of-care mobile and web-based patient-rounding solution (maxRVU) that helps physicians capture billing codes and patient demographics to transmit that information to the billing office with just a few taps. It reduces time to bill by up to 85-percent; improving cash flow. Ginger Cube's maxRVU prevents revenue leakage and reduces operational costs increasing revenues by 10- to 20-percent.
There are larger, dedicated spaces within Innovate Flower Mound for entrepreneurs working on early-stage enterprise solutions/companies that have plans to grow significantly in the next three- to 12-months.
Community Marketplaces— an early-stage tech company set to combat the safety and security of protected transactional problems that plague Craigslist and other used-goods sites, such as at: https://www.crosstimbersgazette.com/classifieds;
Barrel Buddy— a new product company that is revolutionizing gun cleaning by providing the most effective and efficient gun cleaning with the greatest of ease.  The target market is new shooters and women gun owners at: http://barrelbuddy.com;
CG Solutions – technology infrastructure and cloud management at: www.cgsol.net
Andy Pulianda – longtime resident of Flower Mound has a suite of innovate technology platforms designed and built to create cutting-edge solutions for the education sector at: [email protected];
Ammunition Subscription— follows the multi-billion dollar "Dollar Shave Club" model to provide gun owners a simple way to buy ammunition with a subscription to deliver ammunition every month at: http://ammosubscription.com; and,
Code Stream Studios— CodeStream Studios' (CSS) multi-faceted, custom program is designed to develop critical thinking skills through interactive computer coding at:  https://www.facebook.com/CodeStreamStudios.
Also, a local app entrepreneur recently partnered with a Flower Mound coffee shop, Trio Craft Coffee, to test pre-orders and payments via Facebook.
In addition, Innovate Flower Mound has entered into a partnership with Edison Coffee.  The vision is to have a barista on-site in the mornings and brewed coffee during the rest of the normal workday hours.
"We are very excited about the investment and commitment Edison Coffee has made to make this happen for the center and residents," said Adams. "The coffee shop will be open and inviting to any and all so that everyone can have a chance to get coffee in Parker Square and also be a part of the energy that is happening at Innovate."
Adams said a good place to become educated about how entrepreneurial centers work, is to view: https://youtu.be/NugRZGDbPFU
For more information, visit: innovateflowermound.com.