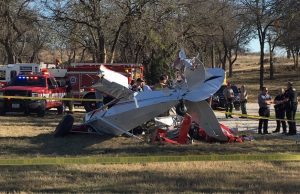 Two people escaped serious injury on Tuesday afternoon after crashing their small plane in southwest Denton County.
Argyle Fire District crews were dispatched to the 7700 block of Mulkey near the Northwest ISD Outdoor Learning Center in Northlake at 3:30 p.m. after receiving reports of a plane crash.
Argyle Fire District and Northlake Police Department arrived on the scene to find a small private plane had crashed with major damage.
State Trooper Lonny Haschel with the Department of Public Safety told NBC 5 that the pilot was not injured, and the passenger sustained minor injuries. No other injuries were reported.
The pilot lost power of the aircraft, glided into some trees, shearing off the wings before coming to a rest on the ground, Haschel said.
Responding agencies included the Argyle Fire District, Justin Fire Department, Northlake Police Department, Texas Department of Public Safety (DPS), Justin Police Department, Denton County Sheriffs Office, Denton County Constable Precinct 4 and the FAA.
#New: Pictures from the plane crash in Northlake (courtesy: Lonny Haschel)@CBSDFW pic.twitter.com/2ybWgwgsNJ

— Tami Carr (@CarrTamicbs11) January 31, 2017