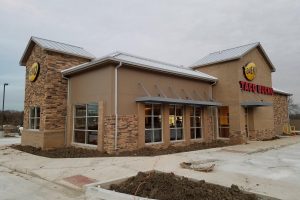 During the Jan. 17 Flower Mound Town Council meeting, Town Manager Jimmy Stathatos announced that the long-awaited reopening of Sagebrush Drive from FM 2499 to Old Settlers Road is scheduled for this Monday, Jan. 23.
The reconstruction project consists of a newly-built two-lane road with a median, along with new sidewalks, curbs, gutters, a drainage system, and dedicated turn lanes.
Stathatos also reported that Fit Manufacturing, which manufactures and distributes sports drinks, has opened in the Parkview Commerce Center on Spinks Road.
In addition, Gabriela & Sofia's Tex Mex restaurant is now open in Parker Square in the space formerly occupied by Taco Brone, and Highland Village-based Edison Coffee Co. will open their second Denton County location in Parker Square in May.
The most-asked question in town was answered when Stathatos announced the highly-anticipated Taco Bueno on FM 2499, that was to open this month, is now tentatively set to open on Feb. 17.