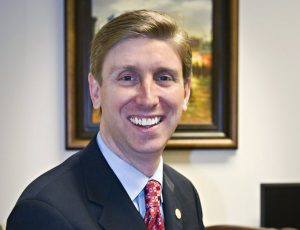 Rep. Tan Parker (R-Flower Mound) on Wednesday was re-elected by his Republican colleagues to serve as the Chairman of the Texas House Republican Caucus for the two-year duration of the 85th Legislature.
As Chairman, Representative Parker is responsible for organizing and serving the overwhelming Republican majority in the Texas House.
"Over the past two years I have been humbled and honored to serve the Republican majority in the Texas House during the critical 84th Legislative Session. We accomplished many remarkable conservative victories," said Parker, "Looking ahead, I am confident the caucus will further conservative policies that cultivate our Texas values of limited government, fiscal responsibility, and personal liberty."
As stated in the formal bylaws, the Republican Caucus of the Texas House of Representatives is responsible for providing an array of important services to its members, including supplying policy research, hosting legislative briefings on critical issues, supporting individual members in passing legislation that advances Republican principles, and developing external communication outreach strategies. As Chairman, Representative Parker will act as the presiding officer of the caucus, its official spokesperson, and undertake the responsibility of organizing the caucus and appointing various caucus officers.
"Now that the Texas House Republican Caucus for the 85th Legislative Session is organized and ready, the real work begins. The Republican Caucus will again play a critical role this session, and I pledge to use my background in business and public service to advance our conservative Republican initiatives during the 85th Legislature," Parker concluded.
As the state representative for House District 63, Representative Parker represents both rural and urban parts of Denton County which encompasses the municipalities of Flower Mound, Argyle, Lantana, Dish, Ponder, Justin, Northlake, Copper Canyon, Double Oak, Bartonville, Trophy Club, Roanoke and portions of Lewisville, Fort Worth, Highland Village, Westlake, and Southlake.
Entering his 6th term in the Texas Legislature, Representative Parker is focusing his efforts on promoting fiscally responsible government spending, foster care reform, transportation investments, border security, mental health, property tax reform, and providing a vibrant education system.  Parker will also continue his work in advocacy for the protection of children, and has previously been recognized for his legislative successes related to abuse prevention, ending teenage homelessness, and public safety.