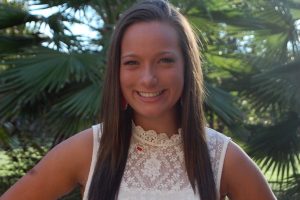 Brooke Roberts believes in getting the most out of life.
The Guyer High School senior is a member of several organizations within her school and is also active in her community, and said she does these things because they help to make her life more fulfilling.
"I enjoy being involved because I love getting to help out others as much as I can," Roberts said. "I also enjoy getting to meet new people and experience new things."
Roberts, 17, is a Varsity Tennis player, Student Council Officer (secretary), a member of the Guyer High School Choir, a Key Club member, and a member of the FCA (Fellowship of Christian Athletes).
Roberts, who said that her favorite way to utilize her free time is by spending time with her family, said that as far as outside of school, her faith plays a key role in her life.
"I'm really involved in my church at Valley Creek," Roberts said. "I attend our youth group every Wednesday night and serve in our children's ministry on Sunday mornings."
The Lantana teen carries a 3.9 grade point average at GHS and said the best part about attending Guyer is "my involvement tennis, fine arts, clubs and school spirit."
Roberts is headed to the University of Mississippi next fall where her major is undecided and said, for her to be happy in life, she feels that she simply needs to continue on the path she has set for herself.
"I'm looking forward to the next chapter in my life," Roberts said. "For me that's attending college, starting my career and eventually starting a family."
Roberts' class rank is 144 out of 595 students in the 2017 graduating class at Guyer High School.
Roberts' Favorites
Subject- English
Person who inspires me: Tim Tebow
Favorite food: Pizza
Favorite movie: The Blind Side
Favorite TV show: Friends
Last book read: The Help
Favorite band: Randy Rogers Band