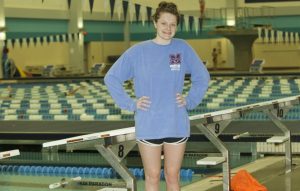 Lauren Savoy's passion for the sport of swimming was not a case of love at first sight…it was a gradual process.
The Marcus High School senior is headed to the University of Missouri next fall on a swimming scholarship. However, when she first started swimming competitively at the age of eight, she was not even sure she would continue with the sport.
"I didn't enjoy it at all," Savoy said. "It wasn't comfortable to me and I didn't understand it. My parents wouldn't let me quit, because I had done every sport you could think of– and quit; so, I had to stick with swimming."
At the age of 10, Savoy got a new coach and started to really enjoy the sport and going to practice and competing. One year later she made the TAGS team, the big meet for the kids in her age group at that time.
"I remember looking up at the older kids and how big they were and how fast they were going, and I remember thinking that I wanted to be like that," Savoy said.
Then at the age of 13, in her last short course TAGS event, the Marcus senior made her first sectionals cut; and, the B team relay she was on beat the A relay.
"It was a huge deal," Savoy said. "The feeling I got from those moments was like no other. That's what keeps me going. The feeling you get when you got a best time, get a cut you have been working so hard for, or beat the person you never thought you could beat is the greatest feeling in the world, because you have to put the work in to get the reward.
"The work may take years to pay off, but it will eventually. You just have to keep working hard."
Savoy also swims for the Lakeside Aquatics Club and has numerous accomplishments to her name.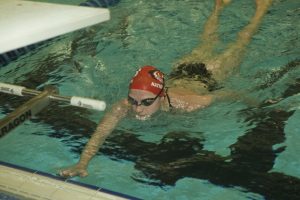 The Marcus senior won the USA swimming women's futures high point over the summer, and was the first on her club team to win high point total at a national meet.
For Marcus, Savoy has also been the district high point winner two years in a row, is a scholastic All American, placed third at state in the 200 free last season, holds the 200- and 500-free style school record and is on the 200- and 400-free relay teams, which also hold the school's record.
Even though she is set to attend the University of Missouri and is comfortable in her decision, Savoy said her goals for this year are still pretty lofty.
"This season, I would like to earn district high point winner," Savoy said. "I want to win state in the 100-breast and 200-IM and break the school record. I also want to get my summer junior cuts in the 100- and 200-breast stroke and the 200- and 400-IM."
Savoy said she does her best: "to make everyone laugh and make sure there's a smile on everyone's faces." She said she chose the University of Missouri for a number of factors.
"I loved how positive the [university] team was," Savoy said. "They were all really close; like a big family. The coaches were all really nice and I loved their coaching style. I trust that they will help me to be the best I can be. The campus was amazing and I felt right at home. It has a registered botanical garden, which I thought was really cool."
Marcus swim coach Shannon Gillespy said Savoy's accomplishments at Marcus have had a major impact on the program and said she has brought a lot to the table throughout her career.
"Lauren has brought outstanding talent and leadership to Marcus Swimming and Diving," Gillespy said. "She is a hard worker driven to success.  She brings out the best in her teammates and is very supportive.  She is willing to do whatever it takes to help the team."
Savoy said that when she reflects on her time as a swimmer at Marcus High School, it is not the awards or accolades she has received that she will remember, but the fellowship that existed between her and her teammates.
"I'm going to remember all the laughs I've had with the team," Savoy said. "There are so many funny memories that I will take with me. And I will remember how much support I have received from everyone."