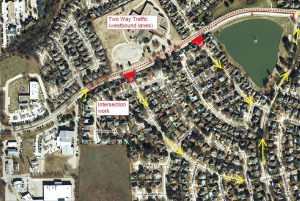 Watch for new traffic patterns if you regularly travel Forest Vista Drive in southeast Flower Mound.
Beginning at 1 p.m. on Wednesday, December 21, the intersections of Forest Vista Drive and Amhearst Drive and Forest Vista Drive and Lakeshore Drive (southbound) will be closed during the LISD winter break for intersection work.
Two-way traffic will utilize the westbound lanes of Forest Vista Drive, between Woodhaven Drive and Lake Forest Drive.
This work is scheduled to be complete by Tuesday, January 3.
Following completion of the intersection work, all eastbound traffic will be switched to the newly completed eastbound lanes along the entire project length.