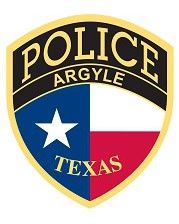 The following is a summary of incident reports recently made to the Argyle Police Department as compiled by the staff of The CTG:
On Oct. 3 at 11:10 a.m., a loose livestock call was received about five horses running loose southbound on Stonecrest from Frenchtown toward Hwy 377.
At 1 p.m. on Oct. 3, a caller on Willow St. reported that a dog needed to be picked up because it's been left alone since the owner was sent to jail earlier that day. All American Dogs was contacted.
On Oct. 4 at 1:15 a.m., a caller reported a missing vehicle and added that a tow truck was seen. The caller was told the vehicle was repossessed and should contact the lien-holder.
A resident of a home in the 300 block of Redbud called to report that his ex-wife hit his vehicle with her current boyfriend's truck at 9:50 p.m. on Oct. 7. He said he'd like to file a hit-and-run report.
The following morning, at 8:40 a.m., a call was received from the same address on Redbud reporting the caller's Cadillac had been hit by the owner of a green truck because of an ex-girlfriend.
A disturbance call from the First Baptist Church came in on Oct. 8 at 10:45 p.m. Two girls were scared of a spider in the car and were running around "freaking out." The spider was removed and all ended well.
On Oct. 13 at 3:35 p.m., a call came in from Town Hall to document that they'd received a call from a resident that someone had hurt her and that a cult existed in Argyle. The call recipient at Town Hall said she advised the woman to call the police.
A loose pony was reported in a neighborhood park on Boonesville Bend on Oct. 13 at 7 p.m.
On Oct. 14 at noon, a large white goat wearing a bell, was seen walking down the middle of the railroad track near FM 407 and Hwy 377. The caller was worried that if a train comes along … well, nuff said.
About an hour later, another call came in reporting a large white goat was in the bar ditch at the same intersection; eating grass.