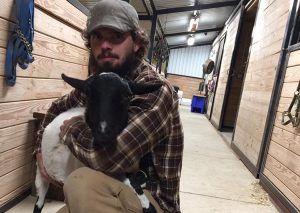 For the first time ever, two veterinarians at Oklahoma State University's Center for Veterinary Health Sciences are set to perform surgery on Yoda, a 7-month-old sheep, to correct a congenital heart problem called a patent ductus arteriosus or PDA.
Argyle-based Ranch Hand Rescue Counseling Center and Animal Sanctuary owns Yoda, one of several therapy animals at the center. Drs. Ryan Baumwart and Robert Streeter at OSU's Veterinary Medical Hospital are treating the sheep.
"A PDA is a blood vessel that allows blood to bypass the lungs." At birth, it should close off and now almost eight months later, it is still open. Since the procedure has never been done before on a sheep, there is virtually no literature out there," says Baumwart, a Board Certified Veterinary Cardiologist. "So it's a big unknown on how Yoda is going to do. What we do know is that the sheep is having signs of congestive heart failure. If not treated, Yoda will succumb to congenital heart disease sooner than he should."
Drs. Baumwart and Streeter will first do a procedure to confirm what they saw in the ultrasound and make sure there are no other defects. Then they will put a catheter in the sheep's leg and advance it up to the heart. This will allow them to measure pressures and inject contrast in the heart, watch the contrast move through the heart, and make sure they are able to safely close the abnormal blood vessel.
"Yoda is one of our more popular therapy animals," said Bob Williams, founder of Ranch Hand Rescue. "All the animals here see clients daily in our Counseling Program, but Yoda, a very sick little sheep has a very strong connection with many of our clients. It's amazing to witness the relationship that exists between Yoda and clients, especially children here at Ranch Hand Rescue. Yoda's unconditional love and snuggles he gives to all the clients make him a special partner to all who meet him.
"I believe that if there is a chance to save him, then we must. I believe that all life is precious and all the animals that live here at Ranch Hand Rescue have special needs, we would go to this extent for any of them."
Yoda's surgery is scheduled for Dec 14.  He will be transported to OSU on Saturday or Sunday December 10th or 11th in preparation for this first-ever procedure.
For more information on Ranch Hand Rescue, visit www.ranchhandrescue.org.