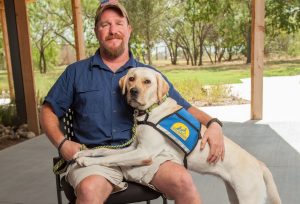 Thanks to the generosity of donors to a longtime national organization that's only been in North Texas for a year, disabled people like Rex Vehrs are living lives with less pain.
Canine Companions for Independence (CCI) connects highly-trained service dogs with the folks who most need them. The organization, started in California in 1975, opened its first training center in Texas in 2015 at Baylor Scott and White Medical Center in Irving.
One of the most recent recipients is the long-time Flower Mound resident– who met and bonded with his Labrador-Golden Retriever-mix companion, Inez, in August– after graduating from training.
The 49-year-old Vehrs served 22-years in the U.S. Army and Reserves; many in special operations units. He also worked 10-years in federal law enforcement as a canine border patrol officer in southern Texas, before transferring to North Texas as an air marshal, before retiring in 2014 due to his disability.
Airborne ranger training was hard with parachute jumps onto concrete airfields and long marches carrying heavy amounts of gear. Duty tours including: Operations Desert Storm and Desert Shield in Saudi Arabia and Iraq in the 1990s; plus, Operation Iraqi Freedom in the 2000s, added to the challenges.
The cumulative result of multiple injuries suffered while in training and in action took their toll. He ended up with traumatic brain injury and reflex sympathetic dystrophy, also known as chronic regionalized pain syndrome and chronic pain.
"The whole time I kept sucking it up, because that was the way we were programmed," said Vehrs. "If you are in pain, you suck it up and drive on and you get the mission accomplished. The missions we were performing were much more important than me.
"We were capturing high-value targets. We were rescuing hostages. We had a lot of different things going on and, for me, the mission was much more important than myself and [I] just kept going. Eventually it caught up with me."
He's had two total hip replacements, titanium implanted in his neck, plus a spinal cord simulator with wires and a computer chip.
"It's an Oreo-sized device with a remote control ,which I have to keep away from my buddies, because they'll have me dancing around doing a jig," he said, fully aware his suffering is nothing compared to those killed or those who lost body parts.
Vehrs' spinal cord injuries caused him to drop things 15-20 times each day. That wasn't a problem during the summer when his family– wife Shelley, daughter Regan and son Cameron– could help him. During the school year was another matter; and something he dreaded.
So, enter Inez.
"Inez has been a blessing beyond description," he said. "She will pick objects up for me. She'll carry objects for me. Laundry used to be a very painful process, but she's helped it ease-up a lot. She'll help me get the laundry out of the washer and into the dryer.
"She drags the laundry basket in our bedroom to the laundry room for me, then helps me change them out. I'm always dropping clothes from the front-loader and she picks them up. It's small things like that.
Inez has been with Vehrs at all times, except once when he visited his mother in the hospital.
"It felt like I was missing a part of my body for that short time," he said. "She's flown to Idaho for a veteran's retreat. She's been to a law enforcement event at a friend's ranch up in north Texas. Not only was she there to comfort me, but the other veterans and law enforcement officers that were there.
"She's spread joy throughout the community. Flower Mound has been wonderful to embrace her. The people have been very respectful and don't rush up to pet her. She's helped some kids overcome their fear of dogs. She just works miracles every day, primarily for me, but for many others."
People needing CCI's services submit an application. Once a dog is found that meets their needs, they are contacted. Vehrs found out about CCI through a fellow military veteran who highly-recommended the organization.
Applicants first go through a two-hour telephone interview, then an extensive in-person interview where trainers perform more assessments. Combining that with the patient's medical documents, CCI experts figure out which dog will match up best with each applicant. Each person learns how to handle their dog and the commands they've learned.
Vehrs, who has a training background from both the military and federal government, was highly-impressed with what Inez learned.
"The dogs are smarter than the people," he said. "I was blown away with the modules they use for training. It's short, hands-on experience. When you are done it's a great marriage."
Learn more about Canine Companions for Independence at cci.org.