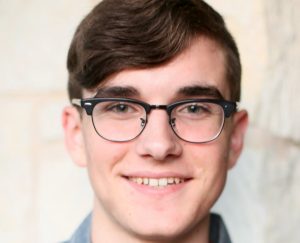 Nicholas Massagli has made it his goal in life to be as selfless as possible.
The Guyer High School senior defines personal contentment by how much he can do for other people; and, he has certainly made the most of his time at GHS.
"Happiness, in my opinion, is seeing the work you put in have a positive impact on the people and places around you," Massagli said. "So I feel that if I could make the people and places around me be in a better place each day, it would allow me to achieve happiness."
Massagli, 17, is involved in Student Council at GHS, as well as French Club, Interact Club (a community service club), Guyer's Top audition choir and PALS, which is through Big Brothers and Big Sisters.
The Lantana teen said he likes taking part in these activities, because they allow him to connect with the school and community in a way that simply attending school would not.
"Being involved in so many different groups at Guyer gives me a chance to feel a part of the school and the student body, instead of only being a student," Massagli said.
Massagli said attending GHS has had quite an impact on his life and that is due in large part to one group of people.
"The best part about attending Guyer is having the honor of meeting the great teachers and faculty at the school," Massagli said. "I have made countless friends among the staff, which has made high school a welcoming place each day I attend."
Massagli is ranked 55 in his class of 595 students and plans to attend Texas A&M or the University of Oklahoma and major in computer engineering.
He carries a 4.4 grade point average at Guyer High School.
Massagli's Favorites
Favorite Subject: Science
Person most inspires you: My father
Favorite Food: Pizza
Favorite Movie: The Dark Knight
Favorite TV Show: Daredevil
Last Book Read: Fallen Angels by: Walter Dean Myers
Favorite Musical Group: Red Hot Chili Peppers