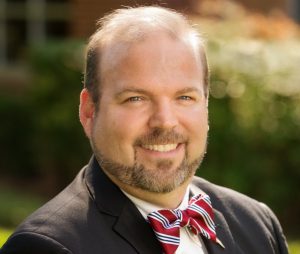 November was a special month for our community, as we celebrated our veterans through two different events.
The first was our traditional Veterans Day Ceremony and Parade, which was held on Sunday, November 6. Even though it was an unexpectedly rainy afternoon, our Parks and Recreation staff moved quickly to setup the event under the stands at the Flower Mound High School stadium. It was no surprise that the thoughtful words by our speakers honored the importance of Veterans Day, especially our keynote speaker Mark Hudson. Mark is the father of Marcus graduate Aaron Hudson, who was killed in action while serving as an Army private in the 401st Military Police Company, 720th Military Police Battalion, 89th Military Police Brigade, from Fort Hood.  The rain didn't dampen the mood as there was a large crowd and a good sampling of local Boy Scouts, Girl Scouts, Cub Scouts, JROTC, and other youth leadership groups presenting the flags of the branches of the US Armed Forces.  It is such a joyous site to see the youth of our town uniting together to show honor and respect to those who are currently serving or have served.
Our second event honoring veterans was the third annual Veterans Day Relay Run. It could not have been a more beautiful day as 30 of our veterans, family members, and supporters took each segment of the relay run, proudly carrying the American flag. Our runners were comprised of all different ages and backgrounds, but shared the common goal of proudly supporting our military members and spreading the importance of Veterans Day. Thank you to all our schools, who showed our runners support as they passed by with signs, cheers, and high-fives. This tradition started with resident John Scully, who often took the American flag with him on a run on special occasions, such as Veterans Day and Memorial Day. Mayor Hayden spoke with him about expanding his great idea into a Town-wide event and it has grown larger and more popular each year. At the end of the relay race, we hold a small ceremony for our runners, their families, and anyone in the community, as a way to celebrate the day. The proceeds from this year's T-shirt sales and event benefited the Victory Therapy Center, a local organization that provides a "Horses for Heroes" program for veterans. If you'd like to learn more about all of the Town's veterans programs, please visit www.flower-mound.com/veterans.
I would be remiss if I didn't mention the Seniors In Motion Veterans Day lunch.  Just before 11 a.m. words of remembrance were spoken and the near-packed house joined the moment of silence to remember those who sacrificed all in the world's wars.  Afterwards, there was a festive USO-style show and we gathered outside the Senior Center to cheer on the Relay runners.  If you missed this or any of our Veterans Day events, you should make plans to attend next year.
While you are planning, don't forget the Town will hold its annual Christmas Parade and Tree Lighting Ceremony on Saturday, December 10, from 6 to 9 p.m. Once again, the entire event is free for everyone. During the parade, lighted floats will travel down Spinks Road to Gerault Park. I have it on good authority that the Marcus High School and Flower Mound High School Marching Bands are scheduled to march and perform in the parade. Be sure to bring your canned food items to donate to members of the Summit Club for Christian Community Action during the parade. Once the parade ends at Gerault Park, there will be a tree lighting ceremony with choir performances, pictures with Santa Claus, carriage rides, kids' activities, petting zoo, local vendors, food trucks, and more. For more information about the parade or tree lighting ceremony, please visit www.flower-mound.com/parade.
Despite the busy holiday season, your Town Council members are here to listen to you. If you have a question or concern, please feel free to reach out to me at [email protected]