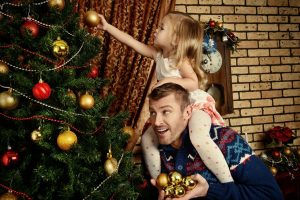 Decorating for the holidays has become a big business. People spend millions of dollars on inflatable figures, yard decorations and lights; so many lights—lots and lots of lights.
Decorating can be very expensive; and, not just monetarily. It's almost the one-year anniversary of when Highland Village resident Jay Hunsucker lost his life while preparing to decorate the family home. The 44-year-old husband and father died from multiple blunt-force head injuries he suffered in a fall from the attic as he was getting holiday decorations.
At that time, the City of Highland Village reported that three people had died in the last five years as a result of falling from an attic area, attic staircase or a ladder. Unfortunately, that can happen in high-ceiling homes on a slab, with no basement storage areas. Those sky-high or over-the-garage attic storage areas mean a potential for steep, hard falls.
Installing plywood on and over the floor rafters (studs) in the attic to create a floor can help prevent a fall through the sheetrock or drywall ceiling. Those boards are not steady, though, unless a contractor secures them.
Of course, decorating with all those lights on high areas of the home's exterior or putting all those extra lights high in tall trees isn't any too safe, either.
Highland Village public safety officials have listed some safety tips for exterior decorating:
Hire out if you can afford it. Particularly if you're planning an over-the-top, extravagant array of holiday illuminations, think about hiring a pro to do it, so you're not exposed to the fall risk.
Assess your physical abilities and limitations. Do you have balance issues or are you taking blood thinners? Medications that increase the risk of bleeding should an injury arise should be a consideration when climbing ladders or working from any elevation, including roofs.
Plug all outdoor lights and decorations into ground-fault circuit interrupters (GFCIs) to reduce the risk of electric shock. Portable GFCIs for outdoor use can be purchased where electrical supplies are sold.
Always respect the weather—even if it means rescheduling.
Make sure to have firm footing. Falls can occur from roofs and railings, and experts say they commonly involve a tumble from a ladder.
Also important are some ladder safety tips:
Use only wooden or fiberglass ladders when putting up electrical décor and lights outside, because metal ladders conduct electricity.
Choose a ladder that's long enough for the job and can extend at least three-feet past the roofline or working surface.
Put the ladder only on level, firm ground and make sure it can support your weight.
Set up the ladder at a 75-degree angle and away from doors that could be opened or power lines.
Finally, always have a helper hold the ladder steady; do not do it alone or after everyone else has gone to bed.
Happy decorating!