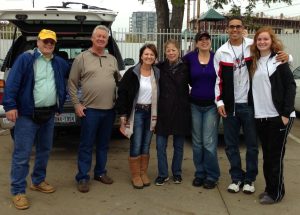 Filling The Void Dallas is a Flower Mound-based non-profit that feeds and cares for the homeless and needy in the Metroplex; one meal and one person at a time.
"That process can start with something like a sack lunch, a hug, a handshake – anything that lifts up their dignity and reinforces the value of their life," said Gary Nilson, who leads the organization. "This is not about a hand-out."
Volunteer leaders also include Tony Curtis, Jason and Stephanie Melott and Alysia Jordan, who are shepherding the ministry's steady climb with a passion for serving others.
Many of the volunteers come from BridgeWay Church in Copper Canyon and Hope Fellowship, which has campuses in McKinney and Frisco.
Filling The Void places an emphasis on one-to-one, personal interactions and the quality of what goes into the sack lunches it serves. The group has never done a PB&J and never will. Recipients find sandwiches from Chick-fil-A, along with chips, cookies, bottled water, a fruit bar and an encouraging note.
"Our mission is to lead people into lasting life-change," said Nilson. "We're like a front door to the shelters and other agencies."
Every one of those meals, which costs about $4 each, represents someone in need. This year the group is on pace to hit 4,000 meals.
The Dallas branch surpassed its 10,000th meal since its inception and incorporation in 2012, as an offshoot of its founding Oklahoma namesake. It has earned two national awards for community service.
Volunteers, including its board of directors, typically hit the streets three times a month, mostly on Saturdays, in pursuit of opportunities to lift-up the hope and courage of people in need.
"We're always hoping to attract more people to serve," said Nilson. "It's a labor of love that makes a huge difference to those we serve."
One of the things that makes Filling The Void unique is that it has no paid employees. Everyone is a volunteer, from its board of directors to its grocery shoppers and sack lunch assemblers.
"Yeah, we keep our overhead pretty low," Nilson said. "It allows us to put 100 percent of our financial support toward what goes in the bag."
Multiple people can be fed with higher donations– $20, 40, or more. Donations are tax-deductible and may be made in someone else's name. The organization can mail a card to that special someone to tell them about the gift you made in their name.
"We see our purpose as a personal calling. When Jesus saw the crowds, he was moved with compassion. We want to do the same," Nilson added.
Checks can be made to: Filling The Void Dallas, 5209 Remington Park Dr., Flower Mound, TX 75028. You will receive a receipt for your gift.  Find out more at www.fillingthevoid.com.