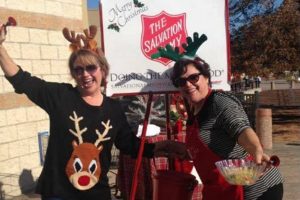 The Salvation Army is seeking volunteers to ring bells at their kettles this Christmas season.
Often referred to as 'the army behind the Army,' volunteers play a crucial role in the Salvation Army's ability to provide quality social services for the community.
Hundreds of volunteers are needed to cover the many hours of bell-ringing from November 25 through December 24. The day runs from 10 a.m. to 7 p.m. Shifts generally run for a minimum of two hours.
Red kettle volunteers are encouraged to be creative and have fun: dress up as Santa, sing, play an instrument, share a special talent, include your children, or bring a pet.
Volunteers are needed for the following locations:
Flower Mound:
Belk, 5801 Long Prairie
Hobby Lobby, 5801 Long Prairie
JCPenney, 5751 Long Prairie
Kroger, 2709 Cross Timbers
Kroger, 1101 Flower Mound Rd.
Market Street, 3800 Long Prairie
Walmart Neighborhood Market, 2800 Flower Mound Rd.
Highland Village:
Walmart Supercenter, 3060 Justin Rd
Bartonville:
Kroger, Lantana Town Center
Lewisville:
Walmart Supercenter, 801 Main St.
Walmart Neighborhood Market, 1515 Justin Rd.
Call 972-353-9400 or email [email protected] to reseve your spot or ask questions.