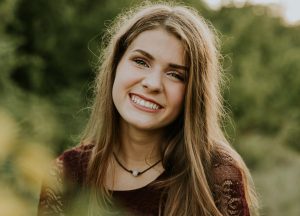 Kelsey Hovanetz is involved in several activities at Liberty Christian School, but the one thing she enjoys the most is helping others.
One organization in particular allows the Liberty Christian senior to do just that every school year.
"I think my favorite thing I have been involved in throughout high school has been Key Club," Hovanetz said. "I have been involved since freshman year, and last year I got the honor of serving as vice president."
Key Club is the high school branch of Kiwanis, and according to the Kiwanis website, www.kiwanis.org, "Kiwanis clubs, located in 80 nations, help their communities in countless ways. Each community's needs are different—so each Kiwanis club is different. By working together, members achieve what one person cannot accomplish alone. When you give a child the chance to learn, experience, dream, grow, succeed and thrive, great things happen."
Hovanetz, 17, said the club has a special place in her heart.
"I love working with this international organization because I have such a heart for serving my community," Hovanetz said.
Hovanetz, who is ranked 11th in her graduating class, is undecided on college and said she is not quite sure what she wants to do for a career just yet, but said she does have a couple of ideas in mind
"I love writing, so I hope to be a journalist," Hovanetz said. "I also think the human body is amazing, so I have considered going to medical school after college to pursue neurology."
Hovanetz, who carries a 4.3 grade point average, said when she reflects back on her time at Liberty Christian School after she has graduated, she will likely think about a place that nurtured her as a student and person.
"I will remember the incredible learning environment and the passionate teachers," Hovanetz said. "In every class I've taken, I've felt that the teachers truly care about my learning experience. The teachers make an effort to get to know me and go out of their way to make sure I understand the material, and that's something for which I am so thankful."
Kelsey's Favorites
Favorite subject: English
Person who most inspires me: Dr. Ben Carson
Favorite Food: Dark Chocolate
Favor Movie: The Fault in Our Stars
Favorite TV Show: Grey's Anatomy
Book Currently Reading: Ivanhoe
Favorite Musical Group or Performer: Bethel and Hillsong