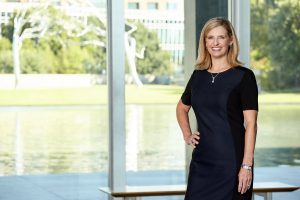 After more than two decades of providing her unique brand of service to home buyers and sellers in and around Southlake, Nicole Smith is now focused on doing the same for current and future residents in Flower Mound and surrounding areas.
Since moving into the Lakeside DFW development, and partnering with Briggs Freeman Sotheby's International Realty, Smith has been spending her time making connections in her new community.
"I've found Flower Mound and its residents to be incredibly friendly, welcoming and inclusive," she said. "Beyond being fun, it's been really rewarding to become part of the town's various groups that help forge the future of its development!"
Because most of Smith's business has come from referrals and repeat business, she's working on developing those same relationships in Flower Mound. She joined the Flower Mound Chamber of Commerce and the Cross Timbers Rotary Club, plus introduced herself to organizations like the Children's Advocacy Center, Youth and Family Counseling and others. She's connected with many of them through the Leadership in Flower Mound program.
"I'm in the process of earning the right to have relationships with people who would want to trust their luxury home purchase or sale to a professional who not only will take care of them before and during but after the sale as well," she said.
A broker with several firms since 1995, Smith joined Briggs Freeman Sotheby's to bring as much quality of service as she could to her clients. She said Sotheby's is the No. 1 real estate firm in the Metroplex for properties of at least $500,000.
"All clients deserve quality service," she said. "My goal is to ensure that the luxury homes in this area receive the level of service they deserve."
Among the ways she has previously achieved this is to be involved beyond just the purchase and/or sale of a home.
"I always want to be a resource for my clients," she said. "Through my experience, I have the reliable resources to help my clients get painting, roofing, electrical and general improvements completed on time and within budget. Part of my value proposition to my clients is 'let me be that resource, let me do the research for you, let me connect you with people who will take care of you based on the experience I have in working with them.'
"The clients I serve are like family, and what I enjoy is providing value to my clients long after the sale is completed."
To learn more about Smith and her services, visit NicoleSmith.net.