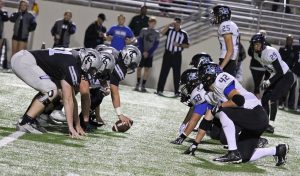 Argyle 49, Snyder 14
The Eagles made quick work of Snyder on Thursday night, winning their bi-district round game by 35 points.
Don Williams rushed for 207 yards and three touchdowns in the game to lead the way for Argyle.
The Eagles (10-0) will face Lubbock Estacado (8-3) in the Area Round on Friday at 7 p.m. at Burkburnett.
Guyer 52, Trophy Club Nelson 21
Guyer coasted in its bi-district round game against Byron Nelson on Friday night, winning 52-21 to advance to the area round.
Noah Cain rushed  for 169 yards and two touchdowns in the game.
Guyer will play the winner of today's game between Midway and Cedar Hill.
Trinity Christian 43, Coram Deo 14
The season came to an end for the Lions on Friday night with a loss in the bi-district round to Trinity Christian.
Ryan Rogers threw two touchdown passes in the game for the Lions, but Trinity Christian pulled away in the second half.
Coram Deo finishes the season with a record of 8-3.
Bishop Dunne 29, Liberty Christian 7
The season came to an end for the Liberty Christian football team on Saturday night, losing to district rival Bishop Dunne in the bi-district round.
Andre Washington scored the only points of the game for the Warriors on a 90-yard touchdown return at the end of the second quarter.