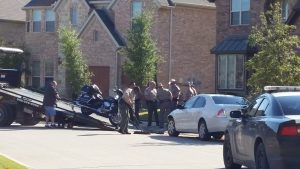 The Denton County Sheriff's department and Texas Department of Public Safety are investigating a fatal motorcycle accident in Lantana.
The motorcyclist, identified as Jeff Peterson, 60, of Lantana, ran into a parked car in the 1200 block of Claire Street in Lantana's Isabel subdivision just after 8 a.m. Thursday.
"The victim was wearing shorts, t-shirt, and sandals with no helmet when he lost control, hit a parked car and went under the car," said Argyle Fire Chief Mac Hohenberger.
Peterson was transported to Denton Regional Hospital where he was pronounced dead.
Peterson lived a just a couple of blocks from the accident scene.