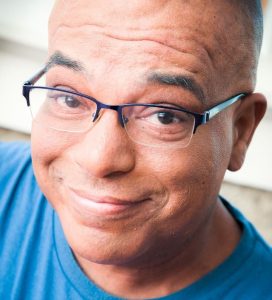 John "Johnny" Keith Rae, of Highland Village, passed from this life on October 30, 2016. A Memorial Service celebrating his life and legacy will be held on Friday, November 11, 2016 at 1 p.m., at Trietsch Memorial United Methodist Church, 6101 Morriss Road, Flower Mound, TX 75028.
John was born on August 6, 1966 in Kingstown, St. Vincent, West Indies. He was the beloved son of Keith D. Rae, a United Methodist pastor, and Veronica E. (Dixon) Rae, a registered nurse, and the cherished big brother of Yolande and Michele Rae. The Rae family immigrated to the United States when John was just 4 years old, first to the New England area, and later to Maplewood, NJ, where he graduated from Columbia High School in 1984.
Affectionately known as "Johnny Rae," John was a top-level student, excellent football player (known as "The House") and a talented thespian with an amazing voice, which landed him the lead role in Columbia's production of Gilbert & Sullivan's The Mikado. Light on his feet, John also performed in the Special Dance Team's production of The Land of Make Believe.
Michelle (Rochester) Rae, John's beloved wife of 19 years, also attended Columbia High School; however, their paths never crossed. After high school, John attended Rutgers University, where he majored in Political Science. After a chance meeting some years later, John and Michelle connected and fell in love, to the delight of friends and family who love them both. John and Michelle were married on April 19, 1997 at the Calvary-Roseville United Methodist Church in East Orange, NJ.
John and Michelle moved to Texas in 2001, when John's position with Verizon was transferred to the Dallas area. Whether in New Jersey or Texas, John was a hardworking businessman, working with Verizon, Best Buy and Keller Williams, as well as co-owning and operating Adventure Kids Playcare with Michelle. In 2004, John and Michelle were blessed with the arrival of their beloved son, Kaleb, and a few years later in 2007, a second blessing, Victoria arrived.
John was overjoyed with love for his family and thanked God for them every day. On Mother's Day 2016, he thanked his mother, Veronica, for always taking care of him and his sisters, Yolande and Michele, and for being an example of how hard work and determination can help hold a family together. He also thanked his wife, Michelle, noting that her love keeps their family grounded and together, and that he was grateful for the tireless work she does for Kaleb and Tori.
A devoted father, husband and friend, John enjoyed cheering his kids on at soccer games and theater productions, playing golf, dancing with his family, and hanging out with friends. He loved the Dallas Cowboys, and as an avid Red Sox fan was ecstatic when Michelle surprised him with a trip to see them at Fenway Park in Boston.
John was a devout Christian and extremely active at Trietsch Memorial United Methodist Church. He served on the Leadership Board, the children's and youth ministries, and the church choir and was president of the United Methodist Men. At Trietsch, John revived his talent and passion for theater, appearing in many church productions including his two favorite roles, Tevye in Fiddler on the Roof and Daddy Warbucks in Annie.
John also completed the United Methodist Church Licensed Local Pastor Training Program. He preached his first sermon at Trietsch on August 2, 2015, entitled, Do Not Worry, based on Matthew 6:25-34, encouraging the parishioners to cut the distractions and to focus on God. John carried that message with him in the coming months as he faced his cancer diagnosis with faith, strength and an intense focus on God.
During his illness John wrote, "I've got to live every day like it's my last. I've got to love those I love like I won't ever see them again." Selfless and loving, he wanted God to use him to help others even during his illness. John leaves an extraordinary legacy of love, faith and family and many cherished memories that will help ease the pain of his loss.
John is survived by his wife, Michelle, and children, Kaleb and Victoria Rae; parents, Keith and Veronica Rae of Union, NJ; sister and brother-in-law, Yolande and Michael Fleming of South Orange, NJ; sister Michele Rae-Dudley of East Orange, NJ; niece and nephews, Michael Isaiah and Kayla Fleming and Tristan and Kingston Dudley; father-in-law, Robert Russell; brothers and sister-in-law, Rob and Sonam (Dubal) Russell, and Jason Russell; and a host of aunts, uncles, cousins, church family and friends.
John will be remembered for his constant smile and zest for living which leaves his family and friends with many precious, fun-filled memories. Family and friends have established a memorial page in John's memory on the website of The National Kidney Foundation. There condolences can be shared and donations made in his name. Memorial donations may also be made to The American Cancer Society.