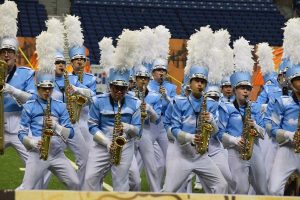 The toughest competition Flower Mound High School (FMHS), Hebron High School (HHS) and Marcus High School (MHS) Marching Bands face is within the 127-square miles of Lewisville ISD (LISD), as schools across the district have continually swept  the University of Interscholastic League (UIL)'s Marching Band Contest since 2012.
This year, FMHS, HHS and MHS swept the 2016 UIL State Marching Band Contest Conference 6A Finals and respectively placed 1st, 2nd and 3rd. This is the first time for FMHS to win 1st place in the competition.
"Congratulations to the outstanding band programs at Flower Mound, Hebron and Marcus High School," LISD Superintendent Dr. Kevin Rogers said. "We are proud of the students, staff, parents and community who have dedicated countless hours to reach this impressive level of success. You have represented your schools, our district and our communities with class, pride and excellence."
FMHS previously appeared in the state marching band competition in 2014 advancing to finals and claiming 9th place. MHS has claimed five consecutive 1st place wins and has competed in the contest since 2004. MHS was finalists and champions in 2006, 2008, 2010, 2012 and 2014. HHS previously appeared in the contest in 2003, 2006, 2008, 2010, 2012 and 2014. They were finalists in 2008, 2010, 2012 and 2014.
"LISD made history this week with a one, two and three finish at the UIL 6A State Marching Contest," LISD Director of Fine Arts Bill Watson said. "Flower Mound, Hebron and Marcus took the top three spots in both prelims and finals, an accomplishment never recorded in Class 6A."
In addition, FMHS just completed sweeping the Bands of America 2016 San Antonio Super Regional Championship on Saturday, Nov. 5. In the same competition, FMHS received the Outstanding General Effect and Outstanding Visual Performance awards. HHS and MHS placed 5th and 6th respectively.
Visit the UIL's website for official results and additional information.
Visit the Music for All website to learn more about Bands of America Marching Championships
here
.