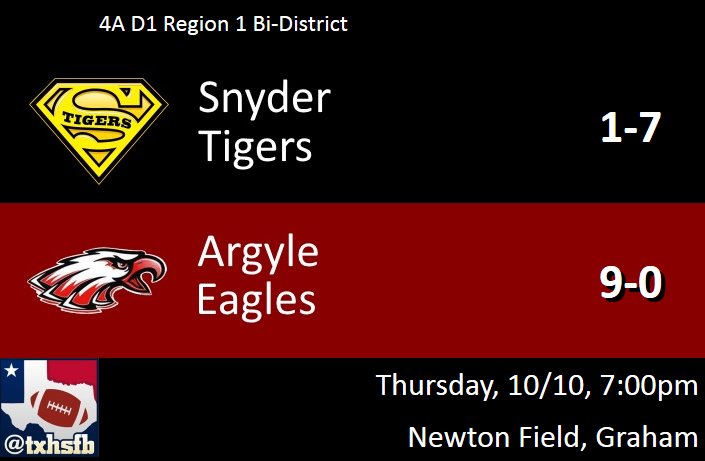 Argyle vs Snyder
The playoffs are upon Argyle this week, and the Eagles will open things up with Snyder, the fourth place team from District 3-4A.
The Tigers reached the bi-district round in 2015, but only finished 1-7 on the season, benefiting from a district that only has five teams, with four qualifying for the postseason.
The player to watch for Snyder is Jarrett Reneau, who plays both ways and is a two-time all-state selection at defensive back.
For Argyle, quarterback Dane Ledford, who passed for 274 yards and two touchdowns in last week's regular season finale against Burkburnett should have a field day with the Tigers defensive backfield.
The game will be played at 7 p.m. on Thursday in Graham.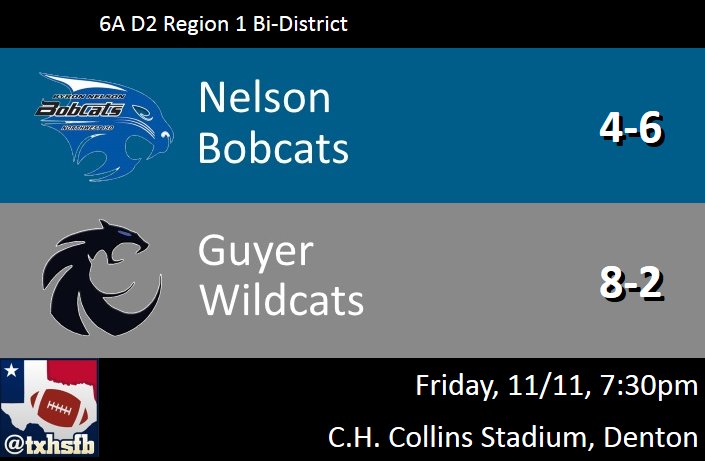 Guyer vs Trophy Club Nelson
Guyer will open up the postseason on Friday night with a team that has been surging as of late in the Byron Nelson Bobcats.
Nelson won four of its last five games after starting the season 0-5 to advance to the playoffs, including a victory over the always game Trinity Trojans.
For the Bobcats, Eli Rusche is the player to watch, passing for 2,465 yards this season and 23 touchdowns.
Guyer will be led by Noah Cain, who ran for 137 yards and three touchdowns last week.
The game will be played at 7:30 p.m. on Friday at Collins Stadium in Denton.
Coram Deo at Trinity Christian
Coram Deo will start the playoffs at 7:30 on Friday facing the Trinity Christian Eagles.
Both teams are 8-2 heading into the game, and the Eagles are 4-1 at home this season, while the Lions are 3-1 on the road.
The player to watch for at Trinity Christian is Garrett Green, who rushed for 68 yards on four carries and had a receiving touchdown for the Eagles.
For Trinity Christian to have a chance, it will have to contain running back Brooks King, who rushed for two touchdowns last week in a 49-6 route against Fellowship Academy.
The game will be played at 7:30 p.m. at Fort Worth Christian in North Richland Hills.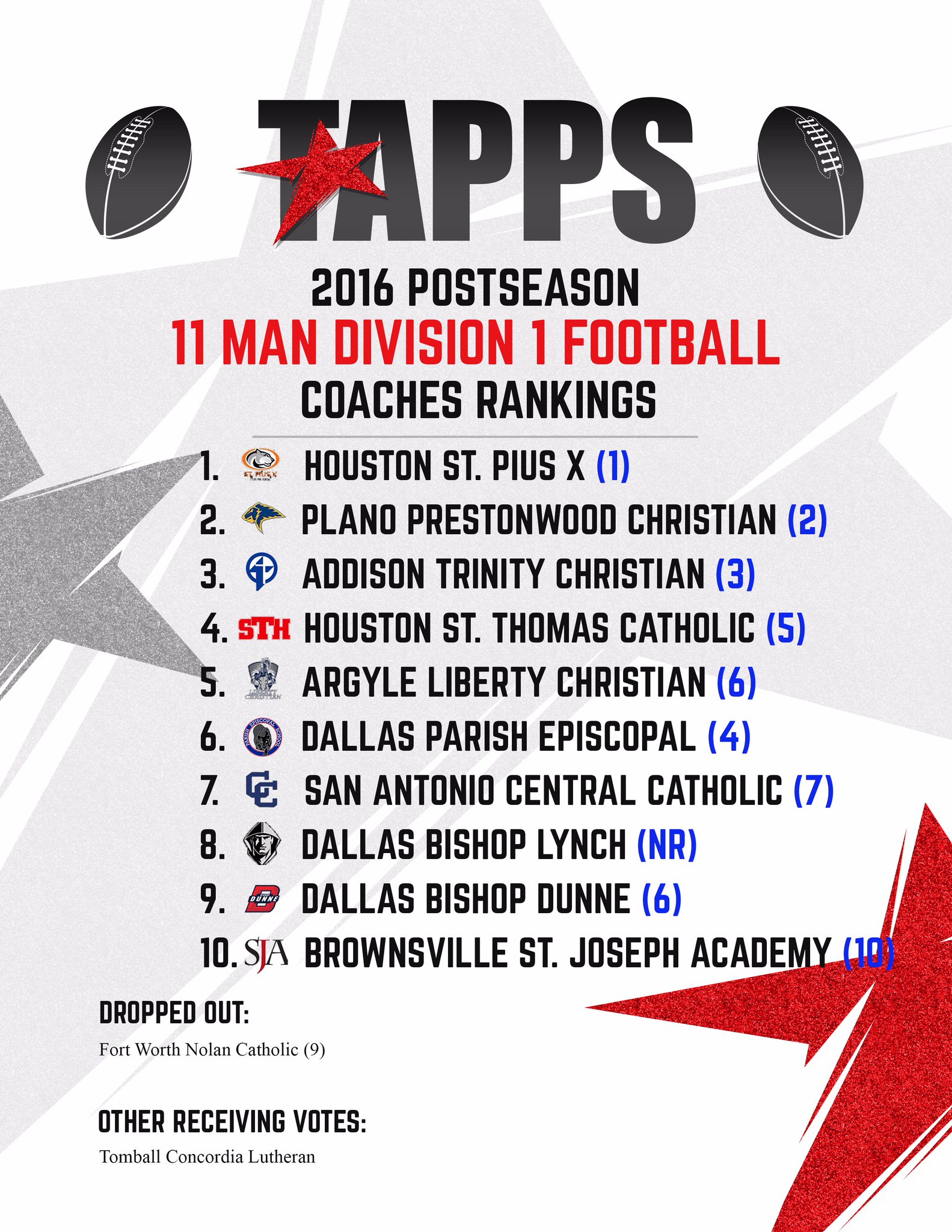 Liberty Christian vs. Bishop Dunne
For the Warriors, the bi-district round of the playoffs must seem like deja vu, as they just defeated the Falcons 27-23 in district play two weeks ago.
It will be a home game for the Warriors, who will look for Jon Copeland, who passed for 253 yards and a touchdown and rushed for a touchdown against Dunne in their first meeting, to come through again.
For the Falcons, the hope is that Alec Ralph, who passed for three touchdowns against Liberty Christian two weeks ago, will once again have a hot hand.
The teams face off at 7 p.m. on Saturday at Liberty Christian in Argyle.