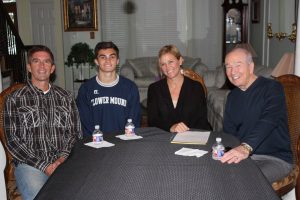 John Scully Jr. is a senior at Flower Mound High School, a shooting guard on the highly rated Jaguars basketball team, and has recently been offered an opportunity to attend West Point Military Academy. His dad, John Scully Sr. is well-known as the guy who runs a marathon in town on the anniversary of 9/11 and on Veterans Day. He does so while carrying the US Flag throughout the 13 mile race. In the video accompanying this article, father and son talk about the reasons for their commitment to their country and to their community.
Being offered to attend West Point is a noteworthy honor. It's not your typical college, and its admission process requires well above average students. Each year, the academy admits about 1,100 young men and women from every state in the union and every race, religion and culture in the country. Admission is about more than your GPA or standardized test scores. Unlike other top-tier colleges, West Point is not just focusing on your academic accomplishments, but on the whole person. Being at the top of your class isn't enough; you'll also need to qualify medically, excel in the Candidate Fitness Assessment, and earn a nomination from one of your U.S. congressional representatives, your U.S. senator, or the vice president of the US.
The Admissions Committee (AC) searches for students who stand out from the crowd in their academic accolades, athletic successes, and leadership motivation. To determine your academic strength and potential, the AC will examine both your high school transcript and your SAT and/or ACT Plus writing scores. (ACTs are not accepted without the writing portion.) To determine your physical fitness aptitude, the committee will evaluate your high school athletics participation and your Cadet Fitness Assessment (CFA), which consists of the following six events: a basketball throw, pull-ups (men & women) or flexed-arm hang (women), shuttle run, modified sit-ups, push-ups and a one-mile run.
Students who are ready to change the world through their leadership, vision, and duty to country could find that the Military Academy at West Point is their best college choice. Established by President Thomas Jefferson in 1802, West Point was the first service academy, and its storied tradition is filled with accomplishments of men and women of character who didn't wait to be told how to change the world, but looked for ways to change it from the moment they graduated. West Point is consistently ranked in the top five colleges in the country by well-respected publications and institutions, and if you look more closely at West Point, it won't be difficult to see why. Some of their most noted alumni include General Robert E. Lee, General Douglas MacArthur, General George Patton and General Dwight Eisenhower.
Do you have the leadership potential to take command and be ready to mentor the soldiers of our Army? West Point exists to educate and train leaders of character to become Army officers and the academy strives to remain the premier leadership-training institute in the world. With that in mind, the committee looks for indications of exceptional leadership potential, such as involvement in student government, i.e., student body or class president, and participation in boys/girls state scouting, debate clubs, school publications and varsity athletics.
Of particular interest to the committee are applicants who seek out leadership positions in their activities, such as team captains or club presidents. The basic qualifications are that you must be at least 17 and not older than 23 years of age on July 1 of the year you enter the academy, and you must also be a U.S. citizen, be unmarried, and not be pregnant or have a legal obligation for child support. The four-tiered application means that the earlier you start the process, the more smoothly it should go for you. John Scully Jr. appears to have all the foregoing qualifications, which make him a prime candidate for leadership in his future endeavors.
Bob Weir is a former NYPD officer, long-time Flower Mound resident and former local newspaper editor.