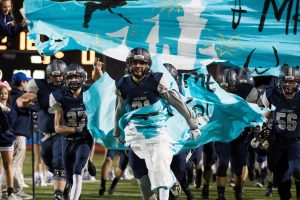 Argyle vs Burkburnett
The Eagles will take on Burkburnett in their season finale tonight, and if each team performs as it has throughout the season, it will not be close.
Argyle is the top ranked 4A football team in the state heading into the contest, averaging more than 40 points per game on the season.
Don Williams, who had rushed for nearly 1,100 yards and 14 touchdowns heading into last week's game with Decatur should wreak havoc on the Bulldogs defense.
The game will start at 7 p.m. tonight at Argyle High School.
Liberty Christian @ FW Nolan
Liberty Christian has already wrapped up a playoff spot, but whether the Warriors finish second or fourth could be heavily influenced by tonight's game with Nolan Catholic.
The Warriors enter the game at 4-2 in conference play, tied with Parish Episcopal and Trinity Christian-Addison for second place in TAPPS 1-I.
The Warriors are led by Jon Copeland, who has thrown for nearly 1,900 yards and 15 touchdowns this season and led them to four victories in their last five games.
Nolan will look to Rory Mitchell, who has rushed for 1,028 yards and 11 touchdowns to lead the way for the Vikings.
The game will be played at 7:30 p.m. tonight at Nolan Catholic High School.
Guyer vs Plano West
Guyer will wrap up the regular season with Plano West tonight and should have no problems taking care of business.
The Wildcats enter the game with a firm claim on second place in the district standings and has proved a tough match for nearly every team they have faced this season.
Noah Cain and Myron Mason are always the players to watch, but keep an eye on Luke Stillwell for the Wildcats as well, who has combined for nearly 1,000 all-purpose yards and 10 touchdowns this season.
For West, at 15.6 points per game this season on offense, there have not been a lot of bright spots, but running back DaVonte Carline has combined for 830 all-purpose yards and three touchdowns this season.
The game will be played at 7:30 p.m. tonight at Collins Stadium in Denton.
Flower Mound @ Lewisville
Flower Mound will look to end the season on a high note as the Jags travel to Lewisville to take on the Farmers.
The Jaguars have lost three straight, but have to feel good about the progress they have made this season, tripling their win total from 2015.
Jackson Averitt has been the biggest playmaker for the Jags, passing for 1,833 yards and 13 touchdowns.
The game will be played at 7:30 p.m. tonight at Lewisville.
Coram Deo @ Fellowship Christian
Coram Deo will wrap up the regular season with Fellowship Christian in Kennedale.
The Lions would move to 8-2 on the season with a victory, and have already clinched a playoff spot.
Look for Brooks King, Ryan Rogers and Jarren Heitschmidt to have big games.
The game will be played at 7:30 p.m. tonight in Kennedale.