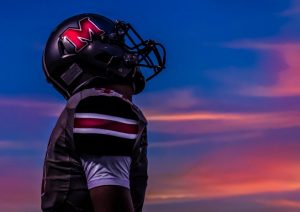 GAME UPDATE: Marcus fell to Trinity 35-17 on Thursday night, dashing their playoff hopes. See photo highlights here.
————————————
Marcus is preparing for the most important game of the season tonight, a game that will likely determine whether or not they make the playoffs.
The Marauders and Euless Trinity Trojans enter the game with identical district records at 3-3, and with fellow 3-3 Trophy Club Nelson facing L.D. Bell, this game is really a must-win.
The Marauders will need to feed the ball to running back Justin Dinka to have the best chance for a victory against Trinity.
Dinka rushed for 146 yards and two touchdowns, and caught a 78-yard touchdown pass last week in a 29-22 loss to Nelson.
For Trinity, Greg Garner will be the man Marcus has to stop, as the Trojans running back rushed for 253 yards and three touchdowns in last week's victory over Flower Mound.
The game will be played at 7 p.m. tonight at Pennington Field in Bedford.