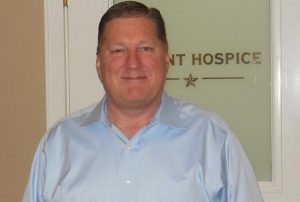 When his wife was diagnosed with breast cancer, Jimmie Stapleton, a Denton County resident and father of three children, knew his life would change forever, but he didn't realize that it would also send him on a new career path.
With several years in hospital administration behind him, Stapleton approached his wife Ellen's cancer diagnosis in 2005 with faith and optimism.
"I was blessed with the opportunity to stay home with my wife for a year after her diagnosis," he explained. "I was able to be there for her surgery, chemotherapy and radiation treatments and to be there for her and my children."
As his wife recovered, the couple reflected on their experience and Stapleton's time working in hospitals.
"I was always bothered when I saw people die in hospitals who wanted to be at their home." Stapleton said. "I wished I could do something so families could be together at home and still be well cared for.  I was fascinated by the concept of hospice."
He and Ellen liked the idea of starting a hospice for the community that had offered them so much support during Ellen's illness.  So Stapleton left his career in hospital administration and followed his passion to serve the community.
Together, the couple founded Ardent Hospice, which is based in Flower Mound. With a staff of physicians, nurses, social workers, chaplains, hospice aides and volunteers, the company offers comfort and care to patients as they approach the end of life.
But just as the business was growing, Ellen's cancer returned. She died while a patient of the hospice she and her husband started.
"My children and I are eternally grateful for the support we received while Ellen was on hospice," Stapleton explained. "I know how it feels to be a spouse of a terminally ill person and the father of children who lost a mother.  This experience has made me even more passionate about what we do and committed to adhering to the very highest service and ethical standards. "
Since the Stapleton's started Ardent close to 10 years ago, the company has served more than 1,000 patients and families from Denton, Collin, Dallas, Tarrant, Grayson and Cooke counties.
"Because hospice is a philosophy, not a place, people are cared for wherever they call home-private residence, assisted living, and nursing and group homes," said Stapleton.
"The cost of hospice is covered by insurance and Medicare, and services can continue for as long as criteria is met."
Amy Cherrnay, community liaison, said that it's not just patients who benefit from hospice care, but it's their entire families, too. She spends much of her time working with family members to educate them on the positive impact hospice can make on the whole family.
"Hospice not only provides comfort care for the patient, but also spiritual support and attention to the needs of the family," she said.
When asked what makes Ardent different, Stapleton's reply was immediate.  "It's our staff.  I am surrounded by remarkable people.  I am constantly in awe of the compassion my employees possess and the difference that they make in the lives of our patients and their families every day. "