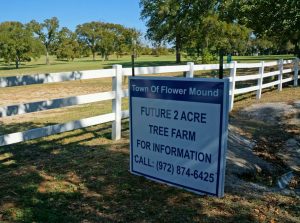 Plans are underway by the Town of Flower Mound to develop a two-acre tree farm at Green Acres Farm Memorial Park, located at 4400 Hide-A-Way Lane.
"The idea is that we not only use homegrown trees for public areas, but each Arbor Day, we'd like to give young trees to our residents to replant and help expand the tree canopy within Flower Mound," said Flower Mound Mayor Tom Hayden.
The farm is scheduled be developed in two phases.
Phase one will have approximately 1,000 seedlings planted on an acre of land.
Phase two will be added in year three and will have additional seedlings planted on the remaining acre. The tree farm's seedlings will be raised and re-potted to larger pots as the trees grow.
In year four, the first trees should be large enough for transplant and distribution from the tree farm.
The town's current tree farm on Oak Drive is under one-third of an acre and consists of about 40 trees.