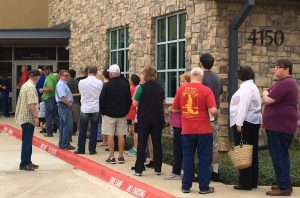 Early voting got off to a rough start on Monday in Denton County.
"Denton County Elections experienced a problem with opening some of the voting equipment this morning. The password to open the equipment would not work in some locations," according to a Facebook post by Elections Administrator Lannie Noble.
"The equipment was replaced and all locations were open before 11 a.m. The affected items were not internet connected voting equipment; therefore, no computer hacking concerns occurred."
The snafu affected area polling locations in Highland Village, Double Oak, Lewisville and Roanoke.
Despite the delays, first day voting outpaced the past two presidential elections:
2016: 16,955
2012: 12,294
2008: 10,005
Early voting for the Nov. 8 General Election continues through Nov. 4.