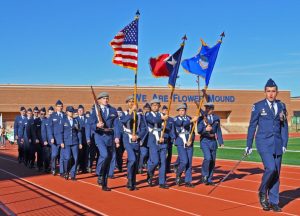 The Town of Flower Mound will honor local veterans in a variety of ways in November.
A family picnic and Veterans Day ceremony will be held Sunday, November 6, at the Flower Mound High School football stadium.
The picnic will take place from 1 to 2 p.m.; free hot dogs, cake, and lemonade will be provided. The ceremony begins at 2 p.m., and will include a Veterans Review, where approximately 200 local Boy Scouts, Girl Scouts and ROTC units parade before the veterans in uniform.
ROTC units and Scout groups that would like to participate in the ceremony can apply online at www.flower-mound.com/specialevents.
On Veterans Day, November 11, the Town will hold its third annual Veterans Day Relay Run. The relay run will kick off at 9 a.m., beginning and ending at the Flower Mound Community Activity Center, 1200 Gerault Road.
After the relay run, the public is invited to attend a special post-run celebration from 5 to 6 p.m. at the Community Activity Center (CAC). Attendees are also invited to come prior to 5 p.m. to cheer on our relay runners as they cross the finish line at the CAC.
Refreshments will be served and Veterans Day Relay Run commemorative T-shirts will be available for $20. All proceeds from the T-shirt sales and event will go to Victory Therapy Center, a local organization that provides a "Horses for Heroes" program for veterans.
For more information, visit www.flower-mound.com/relay.