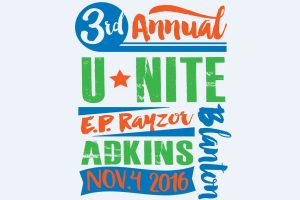 Lantana's 3rd Annual U-Nite Fall Festival supports all three elementary schools and the almost 1,500 students who attend them.
The Adkins, Blanton, and E.P. Rayzor Elementary PTA organizations are working together to host the event on Friday, Nov. 4, from 5:30 to 9 p.m. at Harpool Middle School, 9601 Stacee Lane in Lantana.
The U-NITE carnival includes games, activities, food, entertainment and more. The event is more of a communitywide event, rather than just a school event. Families come from Lantana, Flower Mound, Highland Village, Lewisville, Corinth, Denton and Copper Canyon.
"Each year, we look to local businesses to help us offset our costs, so that any profit made can benefit the schools, technology and PTA programs," said Amy Babcock, 2016 event chair. "Historically, we fundraise separately for our festivals; however, for the past two years we have offered a unique opportunity to businesses: making one donation supports all the schools."
At Adkins Elementary, some of the programs supported include: the fall and spring book fairs; family fun events such as the annual back to school hot dog social, bingo family night, morning donuts with mom, field day and the annual fun run; good character week; Grandparent's Day and Grandparent's breakfast; the district Reflections contest through Arts in Education; and, the WATCH D.O.G.S. program.
"Other programs include our staff hospitality, as well as teacher appreciation week," added PTA President Cissy Coleman. "Our fundraising efforts have also provided books for our school's library and learning commons; our literacy library and our classrooms; technology and technology enhancements; and, student support.
"Fundraising efforts have also helped our PTA create a beautiful outdoor learning center with sensory stations for our students.  This year, we will build our stage structure, as well in our Outdoor Learning Center."
"At Blanton Elementary, the fundraiser supports such student programs as anti-bullying, cyber safety and science enrichment," according to PTA President Katie Messerle.
The school also brings in special speakers, both for students and parents, such as how to protect children with internet safety. Family events including family read-in night, family movie night, BINGO night and family fitness. It also helps support Blanton's mission of creating Maker Spaces at each grade level.
"The U-Nite fundraiser allows our PTA to support EP Rayzor students and families throughout the year," reported PTA President Rhonda Rainwater. "In the past, our PTA has been able to help our school by purchasing Chrome Books, iPads, sound equipment for the cafeteria and much more. U-NITE also helps fund events throughout the school year such as Speed to Read and Good Character week."