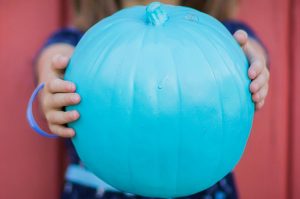 Move over traditional orange jack-o-lanterns; teal pumpkins are making their way onto the Halloween scene thanks to a national campaign by Food Allergy Research & Education.
Since 2014, the Teal Pumpkin Project provides a clear way to communicate to trick-or-treaters that whenever there is a visible teal pumpkin at a house, the homeowners are distributing non-food items on Halloween. This allows children with food allergies or for those of whom candy is not an option, to safely participate in trick-or-treating.
Teal Pumpkin Project participants are asked to consider passing out fun and inexpensive items such as glow sticks, bubbles, vampire fangs, bookmarks, or spider rings instead of candy. Most of these items can be found at dollar stores, party supply shops, or online at a low cost.
With roughly 1 out of every 13 children affected by food allergies, the Teal Pumpkin Project aims to spread awareness about this growing health concern and keep Halloween an enjoyable experience for all.
For more information visit: www.tealpumpkinproject.org.