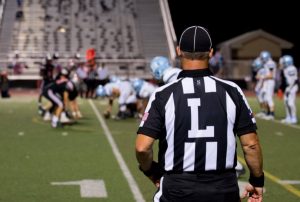 Here is a rundown of southern Denton County football matchups this week:
Flower Mound vs Marcus
The annual Battle of the Mound is upon us once again and this year could be one of the best ones yet.
Marcus and Flower Mound are currently the fourth and fifth seeded teams record-wise, but have identical 2-2 records in district 5-6A.
Flower Mound is coming off of a 10-point loss to Hebron in which quarterback Jackson Averitt accounted for 440 yards of total offense and four touchdowns.
For Marcus, a 33-21 loss to Southlake Carroll last week evened the Marauders district record at 2-2, but Justin Dinka had a tremendous night, rushing for 189 yards and two touchdowns and could cause problems for the Jaguars if not accounted for.
Flower Mound will be the home team at 7:30 p.m. on Friday.
Argyle vs Sanger
The Argyle Eagles are gearing up for what looks to be their most challenging district game yet when they host Sanger this Friday.
The Sanger Indians are the second best team in district 4-4A this season and are the winners of two straight games.
Argyle will have to contain Sanger quarterback C.J. Jackson and receiver Braven Smith, who hooked up on two touchdown passes last week against Burkburnett. Jackson passed for four touchdowns in the game.
For the Eagles, the quarterback/receiver combination of Dane Ledford and Casey Harper proved equally as deadly against Gainesville last week, as they combined for two touchdown passes, and Harper finished with 117 yards receiving.
The game will be played at 7 p.m. on Friday at Argyle.
Guyer vs Wylie
Guyer is licking its wounds after a tough loss to undefeated Allen last week, and will have the opportunity to get back on track this week against another playoff contender.
Wylie enters the ninth week of the season as the fourth place team in district 6-6A and will look to improve its positioning on the back of quarterback Emilio Ames, who threw for 242 yards and two touchdowns in a 31-28 victory over Plano last week.
The Wildcats are led by running backs Noah Caine and Myron Mason, who have combined for more than 1,800 yards and 20 touchdowns this season.
The game will be played at 7:30 p.m. on Friday at Collins Stadium in Denton.
Liberty Christian vs Bishop Lynch
Liberty Christian will look to make it two in a row on Friday night as the Warriors prepare to host Bishop Lynch.
A victory for the Warriors would be huge, as Lynch currently occupies the fourth and final playoff spot in TAPPS district 1-I.
Liberty Christian will need to limit the Friars running game led by Jaire Moore, who has rushed for 926 yards and 18 touchdowns this season.
Jon Copeland has been a force through the air with Warriors, passing for 1,408 yards and 13 touchdowns, and will need to be slowed for Lynch to earn a win.
The game will be played at 7:30 p.m. on Friday at Liberty Christian.
Coram Deo @ Covenant Christian
Coram Deo will travel to Colleyville on Saturday to take on Covenant Christian.
The Lions improved to 6-1 last week with a 38-20 victory over Pantego Christian.
In order to beat the Cougars, who are also 6-1, Coram Deo will have to contain quarterback Joshua Stith, who has combined for 1,270 total yards and 10 touchdowns.
The game will be played at 7:30 p.m. Saturday at Pennington Field in Bedford.