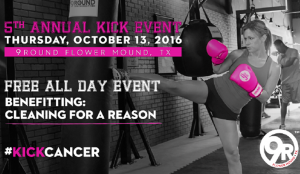 A Flower Mound gym is helping a charity that provides a much-needed service to cancer patients.
9Round Kickboxing is donating one penny for every kick thrown on Thursday to Lewisville-based Cleaning for a Reason, which provides free house cleanings for women battling cancer.
The 5th Annual Kick-A-Thon is a free event that runs from 8 a.m.-1:30 p.m. and 3:30 p.m.-8 p.m.
Anyone can participate and there will be hourly raffles.
Last year the gym raised $1,200, the result of 120,000 kicks thrown.
9Round Kickboxing is located at 1901 Long Prairie Rd. on the southwest corner of FM 2499 and Flower Mound Rd.