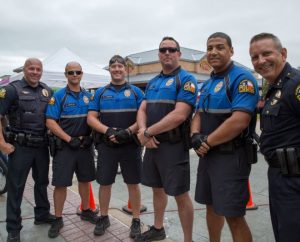 Statistics say one police officer dies in the line of duty every 61-hours; a fact made too real in July when a sniper killed five cops in downtown Dallas. What also made it too real was that each of those officers was also a person; someone with a family and friends separate from the job they performed.
It's such tragedies that make the annual Highland Village Fallen Officer Bike Race and 5K so important. The ninth-annual festivities will take place Oct. 15 at The Shops at Highland Village.
The past eight events have raised approximately $102,000 for the Texas Police Chiefs Association Officer Survivor Fund, which provides $2,500 to the families of fallen peace officers within 24-hours of their deaths in the line of duty. The fund paid out $12,500 to the families of the five law enforcement officers killed by the Dallas sniper.
"It goes to the families to get some small things started like 'we're going to need food, because there's people coming' or 'Mom's going to need a flight from Arizona or whatever,'" said Corporal David Harney, the Highland Village Police Department's community liaison. "While $2,500 isn't as much as we'd like to give, it's something to at least get started."
What started as solely a bike race by long-time former Highland Village Police Chief Ed O'Bara to create more camaraderie among police bike units while raising money, grew two years ago with the addition of the 5K run.
Approximately 50-runners participated last year, along with 20 citizens and 30-40 area officers on four-person teams in the bike race. They helped raise $22,000. With this year's goal set at $30,000, it would continue a trend as the biggest event of its kind in the state.
"It will be impressive," Harney said. "We like to give a large amount to the Texas Police Chiefs Association but our biggest goal this year is awareness and remembrance. And so we're just encouraging people to come out and support these officers, support these guys who have lost friends, who've faced some tough tragedy over the past year and just come out and enjoy a great family event with the police department and our community."
The day will begin with the 5K race at 8 a.m., followed immediately by awards for those winners. Set-up for the main festivities will go until 3 p.m. when vendor booths and the Kids Zone opens. The Kids Zone will feature face painting, bounce houses, bicycle safety demonstrations and wellness activities.
Special ceremonies honoring fallen officers and a parade of police bike teams is set for 4 p.m., followed by the bike race itself, a 9.5-mile sprint through the city's Inland Trail System and turnaround at Sellmeyer. Prizes will be given for fastest individuals and teams. Live music will be featured from 7 to 9 p.m. with bike awards presented.
In addition to neighboring departments like Flower Mound and Lewisville, Harney expects participants from Dallas, Fort Worth, Denton, El Centro College and The Colony, plus possibly McKinney and San Antonio.
"We're really trying to make it a statewide event," Harney said.  "It may not seem like much, but we don't want the fund to dwindle down to where we aren't able to help.
"There's been so much polarization through the media regarding police, no matter if it's bad press or a shooting, whatever it is," said Harney. "What happened in Dallas just solidified that polarization and really brought, I think, some nationwide awareness that we have officers being killed at an alarming rate in the line of duty."
There will be no cost to enjoy the festivities, however, there's a $25 charge for the 5K and civilian bike race. Sponsorships also are available. More information is available at www.highlandvillage.org.