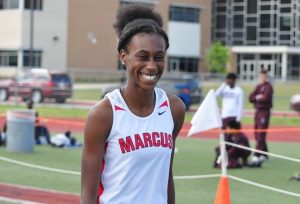 Kyndall McKnight is the true definition of a student athlete.
The Marcus senior plays basketball, runs track and is a member of the National Honor Society. She likes taking on extracurricular activities for a couple of reasons.
"I enjoy being involved, because it gives me a chance to represent my school and myself in a positive way," McKnight said. "Also, I'm never bored because there is always something I can do."
McKnight, 17, won the Silver medal in the triple jump event at the state track and field meet last season and holds a 4.5 weighted grade point average. Ranked 159 out of 807 students in her graduating class at Marcus, she has a few other great passions in her life, as well.
"My favorite activities– besides track or basketball– are probably cooking and eating," McKnight said. "I love to try new recipes and new foods. Even though I'm relatively skinny, people are normally surprised about how much food I can eat in one sitting."
Something else the Marcus student really enjoys about her life is the availability of information.
"The best part about being young today is how we have such easy access to information, because of the Internet," McKnight said. "It allows us to look things up ourselves and form our own opinion if you choose to, rather than being left in the dark on what goes on in society."
McKnight said the most difficult part of being a young person these days is time management.
She added that what she will remember most about her time at Marcus High School is the relationships she has formed.
"I will probably remember my teammates the most, because they are what makes practice, games and meets more enjoyable," McKnight said. "Also, most of them are the people I hang out with outside of school, so there is always a positive vibe when we get together. I truly enjoy being around them all the time."
McKnight's Favorites
Favorite subject: Math
The person that most inspires me: Allyson Felix
Favorite food: Mexican food
Favorite movie: Bridge to Terabithia
Favorite TV show: Teen Wolf
The last book I read: The Great Gatsby
Favorite musical performer: Beyoncé