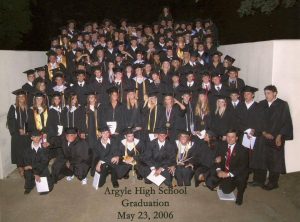 The Argyle High School graduating class of 2006 is busy making preparations for it's ten year reunion.
Graduating with just a little over one hundred students and only the fourth graduating class of AHS, the students achieved great success during their senior year, racking up 2A State Championships in marching band and girls basketball, as well as state runner-up in football.
The year 2006 was also the first year that the school earned the prestigious Lone Star Cup, with awards and accolades in fine arts and academics making for well-rounded success.
The reunion will take place during Argyle's Homecoming Weekend, following tradition set by previous classes. Reunion events will take place Friday and Saturday, September 23-24, 2016 in Argyle and Denton.
Mr. James Hill, principal of Argyle High School since 2015, is enthusiastic about welcoming Argyle alumni back,
and is working with the reunion committee to create a special atmosphere for former students, including tailgating and recognition during the Friday night football game. On Saturday, the Class of 2006 will host a private event at
Audacity Brew House in Denton.
Students from the AHS Class of 2006 can purchase reunion tickets here.
For more information or questions, please contact Megan Reynolds (Megan Self) at [email protected]