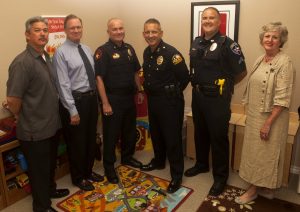 The Town of Flower Mound provides annual funding to eligible Community Support organizations that impact the lives of Flower Mound residents.
This year, that proposed amount will be $10,000 less than one-half of one-percent of the total 2016-17 General Budget. Huh—it's difficult to understand how that adds up; or doesn't.
"No one has ever become poor by giving"—Anne Frank
During the Aug. 15 Flower Mound Town Council meeting, the issue of town funding for community support organizations was discussed by Eric Diaz and Michael Walker as volunteer board members for the Youth and Family Counseling agency. It receives the largest support funds from the town.
Youth and Family Counseling was founded in 1981 by the Police Chiefs of Lewisville, Flower Mound and Highland Village. Their goal was to create a First-Offender Program that would serve as a means to divert youthful offenders from the juvenile justice system.
The founders incorporated family participation, because the evidence showed that many adolescents' first violations coincided with times of family stress, such as a divorce, terminal illness, job loss, or the arrival of a stepparent.
By using the First Offender Program, resources from the police departments, community, schools and family could combine to address the initial causes of illegal "acting out" behaviors, before crime patterns became habituated.
The idea is to intervene at a preventive stage, rather than trying to reverse a set behavior. To put it in monetary terms, is it more cost-effective (fiscally responsible) to spend a small amount up front, or spend a greater amount later (lawyer fees, court costs, incarceration costs)?
"If not for the funding from the town, some of the services wouldn't be available," said Diaz, chair of the Board of Directors.
That program has proven to be so successful over the past 36 years, that it's broadened its ability to reach troubled kids.
"Now, it's no longer necessary to actually get in trouble; a child can be recommended to the program by a school counselor, teacher, campus resource officer or other authority," said Mike Walker, treasurer for the agency Board. "If a child gets in trouble and needs to appear in court before a judge and gets assigned to and follows the program, the offense will be removed from their record. It won't follow them into the future."
The First-Offender Program success also led to the Community Referred Counseling Program, which has grown steadily and now accounts for almost 50-percent of the clients served.
Youth and Family Counseling has also created a state-of-the-art playroom to provide play therapy to children ages four to 12.
Residents in the community can obtain psychological treatment for a variety of issues and receive these services at an affordable rate. Counseling is led by masters-level therapists who are either fully licensed or are working towards their licensure.
The recent shooting of five Dallas law enforcement officers by a mentally unbalanced shooter, was just one of the most recent examples of violence by someone whose behavior signaled a need for preventive measure before a tragedy could occur.
During the 2014-2015 fiscal year, Youth and Family Counseling served a total of 2,128 clients providing 3,052 sessions.
Last year, Youth and Family Counseling received $45,000 from the Town of Flower Mound out of a total general budget of $253,380 split between 21 charities.
If funding preventive programs is viewed as not a valid community supported expense, perhaps giving support to those who have already been impacted would be better served.
The Children's Advocacy Center of Denton County (CACDC) opened in 1997 and has served more than 18,000 children in Denton County. It's the recipient of the second largest town funding amount ($27,500 in 2015).
CACDC is often the first step in a process families go through after a child has been physically or sexually abused.
After a report of abuse is made, the family is contacted by CPS or law enforcement to set up a forensic interview at the CACDC. The trained interviewer on-staff talks with the child and the law enforcement agency, along with the district attorney's office, which follows up with the investigation. The child may also receive a medical exam at the facility by a trained nurse. Then the healing part begins, with a variety of therapy options.
The interview session is usually the first time the children can tell their story and begin healing by getting rid of their terrible secret.
As Executive Director Dan Leal looks at the county's population projections, he has said the facility is at full capacity now, but wonders how the facility will be able to handle the increased number of families who are likely to seek their help.
CACDC is hoping to raise $4-million to provide more space at its facility. Heading its capital project committee is Jody Smith, former mayor of Flower Mound.
Plans call for an 11,000-square-foot addition to the existing 14,000-square-foot building and renovation to 3,000 square feet of the existing space. Leal said they're nearly halfway to the goal, having raised approximately $1.6 million.
With the expansion, the number of forensic interview rooms would increase from two to four.  Currently, there are 800 interviews that take place at the facility each year and expansion would allow the CACDC to handle about 1,000. It has three play therapy rooms which provide a safe environment to help the children communicate about what happened to them and the expansion would increase them to six.
The project would double the conference room size, as well as add two waiting rooms and two consultation rooms. It would also add work space for representatives from the 38 agencies from across Denton County that partner with CACDC. Of those 38 agencies, 34 are law enforcement entities that come from nearly all cities in the county.
Prosecution is a key part of CACDC as they partner with the agencies. Since 1997, 1,188 adult offenders have been prosecuted. The conviction rate of child abuse perpetrators went from 10-percent before CACDC opened to 90-percent after it opened its doors.
As with almost every nonprofit organization, both of these organizations hold fundraising events, but those will have varying results. A known contribution source provided by community funding allows the group to plan for the worst, but hope for the best.
"If you haven't any charity in your heart, you have the worst kind of heart trouble"—Bob Hope
At the same Aug. 15 council meeting, a woman spoke against using town tax monies to support community charity agencies; she'd prefer to make her own donations. Let's hope she has the foresight to know which services she might need to use in the future, if they still exist.
While her generous heart and time to investigate the worthiness of available recipients for her abundant donations are admirable, not everyone in the community can afford to spend such an effort.
To guarantee that community funding supports legitimate organizations, it requires an application process and strict eligibility requirements.
In addition to the two organizations already mentioned, groups that provide: medical care for underprivileged children such as PediPlace; shelter for victims of violence such as Denton County Friends of the Family; court-appointed advocates for abused or neglected children removed from their homes by Child Protective Services; food delivered to home-bound elderly residents by SPAN volunteers; or drug-abuse prevention and education by Winning the Fight.
Perhaps these listed– and other– agencies dedicated to helping solve problems of community residents are too depressing to contemplate.
How about providing the care and shelter of local animals by funding Humane Tomorrow?
Not an animal-lover? How about sharing the gift of music by the Lewisville Lake Symphony, the Flower Mound Community Orchestra or the Voices of Flower Mound?
This begs the question: what does it say about a community which chooses not to support its residents who need that support? It's like cheating at a game of solitaire.
"If you're in the luckiest one-percent of humanity, you owe it to the rest of humanity to think about the other 99-percent"—Warren Buffett, a man who knows something about "fiscal responsibility."
Perhaps it all comes down to answer the question of why a community should provide support to the residents who inhabit it—because that at some point anyone might need help and because it's the right thing to do.