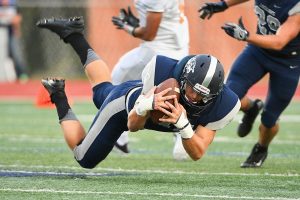 Southern Denton County football teams will be back in action for Week 2 on Friday. Below is a rundown of the teams and their opponents for this week.
Argyle @ La Grange
The Eagles opened the season in impressive fashion last week with a 33-21 victory over Lovejoy, but this week could provide an even bigger challenge.
The top-ranked Division I 4A team will travel to La Grange, the fourth ranked Division II 4A team in the state, for what promises to be a physical contest from kickoff until the final seconds tick off the clock.
The Eagles running game led by Don Williams (163 yards, 3 touchdowns) overwhelmed Lovejoy last week and should play a major part in what Argyle tries to do against La Grange.
The Eagles, in turn, will have to find a way to slow J.K. Dobbins, the Leopards running back who rushed for 3,740 yards and 35 touchdowns in 2015.
The game starts at 7:30 p.m. in La Grange.
Liberty Christian @ Celina
Liberty Christian did a lot of things right in its week one loss to Melissa, and needs to keep those things in mind as it prepares to face perennial powerhouse Celina on Friday.
Liberty quarterback Jon Copeland rushed for two touchdowns and passed for a third, and running back Andre Washington rushed for two touchdowns of his own.
The team showed a lot of heart in rallying from a 42-17 third quarter deficit against the Cardinals, and came up just short of completing the rally, losing 48-42.
The Warriors will have to contain the passing attack of Conner Pingleton to John Franklin, who is a dual threat.
Pingleton passed for 217 yards and three touchdowns last week, two of which were to Franklin, who had 156 yards receiving, and Franklin also rushed for 175 yards and a touchdown.
The game starts at 7:30 p.m. at Celina.
Guyer @ DeSoto
This game could be a bit personal for the Wildcats, as last year's all-state quarterback Shawn Robinson transferred to DeSoto for this school year.
Guyer did not seem to miss him much in week zero, however, as the Wildcats ran all over last year's 5A state runner up Mansfield Legacy by a score of 55-35.
Myron Mason, Noah Cain, Luke Stillwell and Devin Jefferson combined for 497 yards rushing and seven touchdowns.
Robinson passed for 268 yards and two touchdowns and rushed for 97 yards and two touchdowns in the Eagles seaon opener against Jesuit last week.
The game starts at 7:30 p.m. in DeSoto.
Flower Mound v. Keller Fossil Ridge
The Jaguars should have a lot of confidence heading into this week's game against Fossil Ridge, as they are coming off a huge win in their season opener against W.T. White.
Flower Mound won the game 65-14, and running back Ifeanyichukwu Uzowih rushed for 215 yards and three touchdowns to lead the way offensively along with Jackson Averitt, who passed for two touchdowns and rushed for two touchdowns.
The Jags will have their hands full with Ridge, however, as the Panthers are also riding high after defeating Arlington Lamar 41-31 last week on the strength of a 308-yard passing night from quarterback Max Akin.
Akin's best receiver is Stefan Cobbs, who caught five passes for 119 yards and a touchdown.
The game will start at 7:30 p.m. in Flower Mound.
Marcus @ Arlington
The Marauders came up just short in their opening week's loss to Arlington Bowie, but will have another shot at an Arlington school this week when they take on the Colts.
Michael Henry had an excellent game for Marcus last week on the ground, averaging eight yards per carry for five touchdowns and 160 rushing yards for the game.
The Colts were nipped in Week 1 as well, losing to South Grand Prairie by a score of 22-20, but running back Kenland McCray had a phenomenal night, rushing for 234 yards and three touchdowns.
The Marauders defense will have to have an answer for him in the game.
The game will start at 7:30 p.m. at Maverick Stadium at the University of Texas at Arlington.
Coram Deo v. Gainesville State School
 The Lions made a statement in their season opener last week, winning 50-20 over Texoma Christian to get the season off to a good start.
This Friday's game will be the Gainesville State School's season opener.
The game will be played at 7:30 p.m. in Flower Mound.