Corral City is a town in Denton County; across FM 407 from the Harvest community on the western side of I-35W and Argyle.
It's best-known for the highly-reviewed Paradise Foods and Liquors, surrounded by about eight mobile homes and some 90 RVs.
Come October, the approximately 100-acre Town of Corral City will no-longer exist; it will be re-named Draper, in honor of former owner and mayor James "Eddie" Draper.
"I found out last Thursday [July 28]," said Draper. "I am so humbled and honored. I was there for 13-years [1993 to 2006] and it was a ghost town back at the beginning."
When Draper bought the original approximately 20-acres back in 1993, he inherited some 23-years of history.
In the beginning of the 1970s, a woman named Geneva Helton and her husband decided to form an incorporated municipality to get around Denton County's liquor laws. The Heltons bought more than 20-acres of land from a family friend and established a liquor store.
Corral City incorporated in 1973 and then established a mobile home/RV park for doublewide trailers and recreational vehicles. Other than the gas/convenience and liquor store, no permanent buildings were permitted.
Following the early 1990s retirement of Geneva Helton and the death of her husband, the town declined in population. It appeared to be—and in some cases was– a dumping ground for abandoned mobile homes.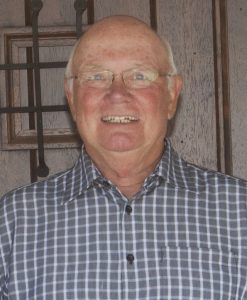 However, in 1993 James "Eddie" Draper became the mayor and owner of Corral City.
"It was my vision— for the town to become a thriving commercial hub— and I took on that venture," he said. "Mayor [of Argyle, Richard] Tucker [2001 to 2007] and I got together to get regional sewer and water utilities in so that could happen."
As of the census of 2000, there were 89 people, 29 households and 20 families residing in the town. Not included were the seasonal construction/gas and oil workers who rent spaces in the RVs.
Realty Capital Management, under founder Richard A. Myers, had worked in and around the town for six years to get the site zoned and prepared the land's utilities. It had spent more than $25 million in preparation for a future development, Belmont (now called Harvest); including help fund a $22 million sewer line with Corral City, Flower Mound, Northlake and Argyle, which was completed by the Trinity River Authority.
"In 2007, the developers [of Harvest] first talked about a joint venture [for Corral City], but they made me an offer [to sell the land] and it was the best thing for both me and the town," said Draper. "I don't regret that decision, but I miss the folks down there."
Following Reality Capital's initial involvement in 2006, the 2009 recession completely changed the trajectory for the area. The permanent population was down to 27 at the 2010 census.
In January 2012, plans for a 1,000-acre development, the before mentioned Belmont, now Harvest, was set to include up to 3,500 homes at the northwest corner of FM 407 and I-35W in Argyle and Northlake.
Paradise Foods and Liquors was renovated, plus an additional 75-acres were annexed into the town and added to the original property of more than 20-acres. The 2012 Belmont development also included the more than 100-acres of Corral City as a mixed-use development to include retail, restaurants and office buildings.
In anticipation, the original ordinance restricting permanent buildings was changed.
"A couple of years ago, we [the town council] changed the design standards as outlined in the original ordinance," said Mayor Jamie Harris. "The [Belmont] plans included a 200-unit upscale apartment development with garages, but the funding fell through."
The current permanent population is 23. The town contracts with the cities of Argyle and Northlake to meet its police, fire and court service needs.
In addition to Mayor Harris– and her husband, David, a former Denton County Constable Pct. 4 (from September 2001 to November 2012) and a Denton County Sheriff's Patrol Deputy since then– there are five town alderpersons guiding the community; who were behind the idea to change Corral City to Draper, Texas.
"With the growth coming up I-35W and the Alliance corridor, the town is in a perfect place to become what I'd originally thought it could be," said Draper. "My nephew, Tim Gamblin, is the manager at the Paradise Food Market and Liquor Store, so I get free coffee anytime I visit."
Getting free coffee is wonderful, but having a town named in your honor … priceless.