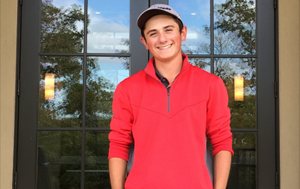 A member of the varsity golf team and National Honor Society, Josh Domergue has tried to make the most of his time at Marcus High School.
Domergue, 16, is also a member of the French Honor Society and said he enjoys being a part of different extracurricular activities because it gives him a sense of service to others.
"As a member of the National Honor society, I take part in community service hours," Domergue said. "I enjoy helping others in the community, meeting new people and learning new things that help me grow as an individual.
"I really enjoy being part of the Marcus golf team, because it is such a closely knit group and I have met some of my closest friends through playing on the team. I love the game of golf and am lucky to represent my school while doing what I enjoy."
Domergue, who has a 4.53 weighted grade point average and is ranked 138th out of 807 in his graduating class, said his affection for the sport of golf is due to a number of factors.
"I enjoy playing golf, because I love the challenge of beating the course and par," Domergue said. "I love playing new courses and seeing new places through golf. It is a sport that you can play your entire life."
The Marcus 2016 senior said that he believes the best part about being a young person today is: "all the opportunities there are in such an interconnected world."
"The internet makes the world a smaller place and gives us a great opportunity to learn and explore many things outside of our familiar territory," Domergue said.
Domergue said the hardest parts of being a teenager are the "stresses of social media" and the rising cost of college tuition.
"The thing I will remember most from Marcus High School will definitely be the golf team and the camaraderie that the team has and the friendships I have made that will last a lifetime," Domergue said.
Domergue's Favorites
Favorite Subject: Physics
Person Inspires Me: Rory McIlroy
Favorite Food: Quesadillas
Favorite Movie: Lord of the Rings
Favorite T.V. Show: "The Daily Show" with Trevor Noah
Currently Reading: "The Talent Code'
Favorite Musical group/Performer: Drake