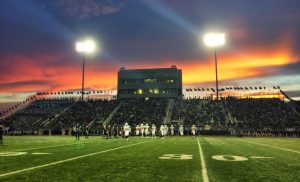 Here are your Friday night final scores for the first week of the season:
Flower Mound 65, W.T. White 14
Marcus 39, Bowie 40
Denton Guyer 55, Mansfield Lake Ridge 35
Liberty Christian 42, Melissa 48
Coram Deo Academy 50, Texoma Christian 20
Argyle 33, Lovejoy 21 (Saturday in the Tom Landry Classic)
Game of the Week: Denton Guyer 55, Mansfield Lake Ridge 35
The Wildcats marked a huge notch on their belt on Friday night, defeating Mansfield Lake Ridge by 20 points.
Lake Ridge was last year's state runner up in the 5A Division I classification.
Guyer did not seem to miss the presence of former quarterback Shawn Robinson, as a strong ground game led the Wildcats past Lake Ridge.
Myron Mason rushed for 221 yards and three touchdowns, while teammate Noah Cain added 166 yards rushing and two touchdowns.
Cole Schroeder kicked two field goals for the Wildcats, as well, and the Guyer defense held the Eagles to 137 yards of rushing offense and recovered a Ridge turnover.
Guyer will have an even bigger game next Friday night when they travel to DeSoto to face the team for which Robinson now plays.
Kickoff is at 7:30 p.m. on Sept. 2 in DeSoto.
Follow us on Twitter for news, weather, traffic and sports updates throughout the week.