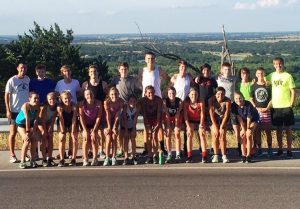 It can be difficult for many programs to sustain success year after year as special athletes come and go with graduation.
Liberty Christian appears to have lost more than its usual share of key runners heading into the 2016 cross country season, but head coach Tyler Curbo isn't so sure the Warriors are in rebuilding mode.
Curbo, a former Warrior himself, knows better.
"What I've seen is there's a different group of boys and girls who have committed themselves to training, and they continue to improve every day," said Curbo, a 2005 graduate. "I get more and more excited about it as we keep moving closer to the season."
Curbo added, "We've had a cross country program for a long time, and we want to have a program these kids can be proud of and that can compete for state every year. We are seeing the fruits of that consistency."
Liberty Christian opens the season on Sept. 3 at the Marcus I Invitational.
Curbo praised his new crop of talent, which has more experience than what you might think. Jordan Gledhill, a junior, is in his first year but has been running roughly 40 miles per week in preparation for this season and is projected to be one of the top five runners for the Warrior boys.
He'll be flanked by sophomore Paul Anderson, who advanced to the state track meet in the two mile, and junior veteran Rugby Scruggs. Cameron Keller, a converted offensive lineman, is seen as a dark horse.
The girls will be led by Elizabeth Reneau, a staple for Liberty Christian in both track and cross country who trains at a high level year round. Reneau is one of the top runners in the state, having ran a record 4:06 in the mile at the state track meet. She also won the two mile with relative ease.
With Reneau as a consensus No. 1 for the girls, Curbo said the rest of the crew is coming along nicely with athletes like sophomore Morgan Monschke. Monschke is coming off an injury but should continue to get stronger and provide the team with some added depth as the season progresses.
"Yes, we lost some seniors and it was probably one of the largest groups we've had. But we are filling in those gaps with quality runners," Curbo said. "The guys have won two straight district titles, and the girls have always been one of the top teams. We want to take that next step, and we think we have the right kids to do just that."