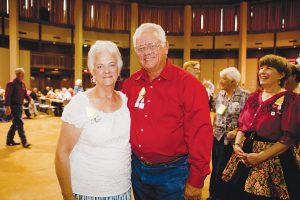 Twenty-five years ago a friend invited JoAn Meyer of Double Oak to bring her husband to a couple of free square dance lessons in Allen.
What the heck, the price was right and the friend assured her the whole adventure was commitment-free.  The Meyers have been dancing ever since– with the exception of one hiatus– and look like the square dancers they are; in every inch of her prairie skirts and him in his western wear.
Originally a European folk dance for eight people in a square formation, "traditional" square dancing entered the Americas through New England, then moved south and west with the pioneers and their covered wagons.
The plot of Rodgers and Hammerstein's popular Broadway musical Oklahoma! spins around which cowboy, decked out in traditional square dancing attire, will get to do-si-do with the beautiful Miss Laurey.
In the 1950's and '60s, square dance enjoyed a revival in America that has developed into a standardized worldwide hit called Modern Western Square Dance.  People in Japan, for instance, take lessons in their own language, but dance to American English "calling."  They can go to any square dance in the world and enjoy a night out.
"We've traveled all over the place," JoAn said, "It's a lot of fun."
Currently, the Meyers are members of the Triangle Squares; a local club that holds regular lessons and twice-monthly dances in the ballroom of the Denton Senior Center.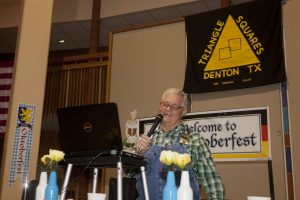 Toby Thomason, a charter member of the Triangle Squares, is the caller.  He's been at it since 1973, when his wife forced him to attend his first square dance at Shepherd Air Force Base in Wichita Falls.
"Two years ago, a group of his dancing fans and friends secretly submitted all the paperwork that won him a place in the Texas State Callers Hall of Fame," said JoAn. "It took him completely by surprise!"
A cheery 70-year-old, Thomason explained how callers get into the business.
"My musical background includes playing clarinet and tenor saxophone in high school marching band, singing in the church choir and a gospel quartet and majoring in music education at what is now the University of North Texas," he said.
His career, however, wasn't music-related.
"Career-wise, I spent four years in the Air Force as an engineer who maintained electrical and mechanical equipment." Thompson explained. "Then, as a civilian, made my living as a project manager for a commercial contractor in Dallas.  On the side I got interested in calling, because I like to sing."  Not all calling is singing, he added.
While visiting his daughter in Taipei, Taiwan, he called for a club there. He remembers she understood the calls just fine, but his Chinese accent was strange to the ear.
Calling is mostly a self-study avocation, but callers attend special schools; like the one he attended three times in Estes Park, Colo.
"Caller school is an intense three- to four-day experience," he said.
He is a member of the North Texas Callers Association, which holds quarterly training and seminars.
"I use Callerlab's programs and of course we all have our live mentors," Thompson said.
Callerlab?
In the 1930s, a man named Lloyd Shaw collected "western" square dance calls from all over North America, then standardized the steps' vocabulary.  He dubbed the project "callerlab" and the project became what is today– the International Association of Square Dance Callers.
Folk dances have a set choreography, but no two Modern Western Square Dances are alike, because the caller determines the moves the dancers execute at one-step per beat of music.  Square dance lessons teach the individual moves.
Traditional square dancing uses about 10-30 calls, whereas Modern Western Square Dancing requires proficiency in groups of moves called "programs" developed by Callerlab.
"Callerlab categorizes square dance movements into progressively complex groups– from easy to challenging," Thomason said, "And, besides being good clean fun and great fellowship, square dancing makes for mental nimbleness; because you have to pay attention, then perform one action after another in time to the music."
Some "wake 'em up" variants on the typical four-couple square are: "Ninepins," which requires an extra person in the middle; and, the "Hexitation" with two couples in each "head" position.
If you want to get confused, try a "12 Reel," which has a trio of dancers on each side– usually a man and two women. But, to completely flummox the little gray brain cells, there's a "Bigon" square of only four dancers–each of whom executes the moves of both members of a couple—whew.
JoAn pointed out that an evening of dancing is equivalent to walking three miles; with an awful lot of fun into the bargain.  Dancing 120-steps per minute is the kind of exercise that will please any cardiovascular professional or workout trainer.
The Triangle Squares start each dance with a potluck dinner that includes a table of homemade desserts "to die for."  [The author speaks from experience on the topic of the dinners.]  Plan to dance-off the calories and try to remember squares move in a counterclockwise direction.
"There are about 60 clubs in the Dallas-Fort Worth Metroplex," Thomason said.  "Clubs visit each other and, from time to time, hold a big dance."
A multi-club get together is traditionally called a hoedown.  Each group has its own colorful costume and a banner they take along.
Oh yes, and there is definitely square dance etiquette.  No drugs, alcohol, unkempt appearance and good manners are always acceptable.  "Square dances are family-friendly," Thomason said.
The Triangle Squares sponsored a big dance on July 30.  Groups came from the Denton, Greenville, Fort Worth and Weatherford areas.
"It was a 'Schmidts' dance," JoAn said. "The imaginary 'Schmidts' are the hillbillies of the square dance world.  People showed up dressed like L'il Abner and the folks from Dogpatch.  Many dances have themes that add to the fun of the evening."
Traditional square dancing is accompanied by live music on instruments like fiddles and banjos, but Modern Western Square Dancing keeps pace with the times.
"I use a laptop and my iPhone," Thomason said.
In bygone years, he used mint-condition compact discs and before that, 45-rpm recordings.
Square dancers are not prejudiced about music, as long as the beat is steady.  They dance to traditional tunes, of course, gospel, pop songs, country western, as well as Broadway musicals, rock, Motown, techno and even hip hop.  Who'd have thought?
Age?  No problem!
"The oldest dancer I know," Thomason said, "is in his mid-90s and is only slowed by his pacemaker; and, the youngest dancer I know is nine."  How's that for variety?
The caller said he's seen blind and otherwise disabled people enjoy a square dance.
Triangle Squares 2016 lessons for beginners start on Tuesday, Sept. 13, at First Cumberland Presbyterian Church, 1424 Stuart Drive in Denton.  Lessons are every Tuesday for the following 15-weeks.
The first lesson begins at 7 p.m. and thereafter 7:30 p.m.  Each class lasts until 9:30 p.m. No membership is required.  Oh, and bring your appetite for the "good eats."
For more information, call JoAn Meyer at 817-929-3100, or Toby Thomason at 214-543-1468.
The club's regular dances are on the first and third Fridays of every month at the Denton Senior Center, 509 North Bell Avenue in Denton.  It's a friendly group of about 50 dancers, so y'all come.
"Square dancing is something you should try it at least once with your whole family," Thomason said.